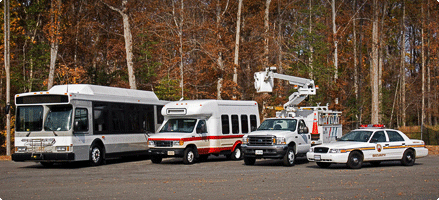 Leasing and Transit Fleet Maintenance Services
Whether you run buses, bucket trucks or booms, you have the core fleet needs of cost management and maximum uptime, but you also need to be sure that your maintenance partner knows the specialized needs of your equipment. At Penske, we support many vehicle types across multiple industries. Chances are we've worked on your equipment types already.
Utility Fleets
We provide vehicle leasing and maintenance solutions to the utility sector, including:
Investor-owned utilities
Rural electric cooperatives
Telecommunication and cable companies
Gas and water utilities
With years of experience maintaining all kinds of utility vehicles - from bucket trucks to ditch diggers – your equipment is always safe and ready to roll, so your crews stay productive and your customers stay satisfied. And, when you experience peak or emergency demands, we maintain a full line of utility equipment for short-term rental so it is ready when you need it.
Construction Equipment
Our flexible program provides service for any construction job including:
Concrete mixers
Trenchers
Forklifts
Graders
Boom trucks
Moffits
Other yellow iron equipment and vehicles
Penske technicians can work at your facility or ours, maintaining the entire vehicle—from lifts and electronics to all major components, including Cat, Cummins, International Harvester and Detroit Diesel-powered engines.
Bus and Transit
We supply the management, processes and qualified technicians to keep buses and specialized coachworks running on time and at peak performance. Penske provides:
Public transit bus maintenance and management, including hybrid transit buses, liquid natural gas (LNG) buses and compressed natural gas (CNG) buses
Paratransit vehicles with critical operational features, such as wheelchair lifts and low floor configurations
Shuttle-bus operations including airport shuttle buses, rental car shuttles, hotel shuttle operations, university shuttle operations and more
Our superior bus and transit maintenance includes chassis; coach works; climate control; electronics and signage; and special-needs applications like wheelchair ramps and lifts.
Industry Case Studies
Don't just take our word for it. Read about how Penske has helped others in the utility and transit industries.
FTA Special Offer
When you use our leasing and transit fleet maintenance services, you are eligible for the Federal Transit Administration's (FTA's) Capital Leasing Program. This program can provide your municipality with 80 percent matching funds to pay for lease and maintenance costs. For more information, visit the FTA's Web site.