Preventive Maintenance Services Provide Added Value, Uptime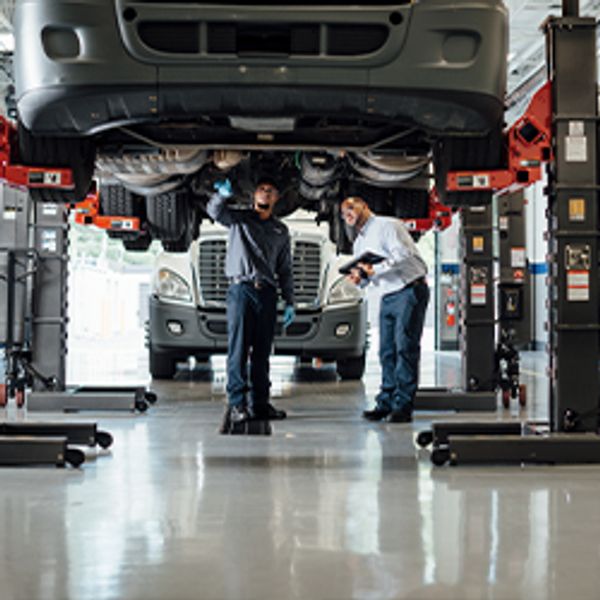 Penske Truck Leasing is committed to providing the right preventive maintenance (PM) services at the right time to the right vehicle and has embraced technology to improve upon the traditional scheduled maintenance checklist. Penske Truck Leasing offers Dynamic PM®, a data-driven preventive maintenance technology that will enhance compliance, quality and uptime.
"We have gone from a paper document to a voice-directed maintenance technology and software system that provides specific direction based on the vehicle's attributes, geographic location, age and domicile," said Mike Hasinec, former vice president of maintenance support for Penske Truck Leasing. "We have 1,200 to 1,500 tasks identified that get populated throughout the vehicle's life."
---
Benefits of Periodic Maintenance Technology
A dynamic fleet preventive maintenance program makes technicians more efficient and effective. "The data tells you if you're wasting your time inspecting something that never fails," Hasinec said, adding that Penske provides steps based on the data it collects from its entire fleet. "One of the attributes we assign is looking at the fleet age and historical information as to when we see something specific fail, we'll add some steps to do a more thorough inspection and, if need be, replace that unit ahead of a failure."
Hasinec said Penske has a plethora of data coming in every night. As data comes in, Penske assembles failure rates. "We may see on a certain vintage vehicle a spike in some sort of a repair on a widget or a component. It could be something as simple as the wiper motor," he said. "That allows us to have more predictive maintenance rather than reactive maintenance."
Maintenance steps can also shift based on the time of year. "In the winter, coolant leaks start to appear because you have contraction and expansion associated with cold weather. You also need to have a process to change your air dryer desiccant cartridge, and you want to ensure tires have enough traction," Hasinec said. "You have air conditioning and HVAC systems as well as other components you examine in the summer."
What's more, Penske's Dynamic PM has more than 1,000 rules based upon customer preference. "As big as we are and as diverse as our fleet and customer base is, we see almost any application you can imagine. We can customize inspection steps based on the vehicle and its specific application," Hasinec said.
The Growth of Periodic Maintenance Technology
Penske is the first and only organization in the transportation industry to integrate voice technology into its scheduled maintenance support. With voice-directed maintenance technology, Penske technicians receive voice prompts via a headset that directs them through a detailed series of inspection steps.
The innovative digital preventive maintenance technology improves accuracy and consistency while also reducing and eliminating paperwork, and ensuring documentation and compliance with regulations.
Contact Penske to learn more about how the Dynamic preventive maintenance technology can help improve vehicle uptime, safety and performance.
March 2019