Protect Equipment, Optimize Performance in Harsh Winter Weather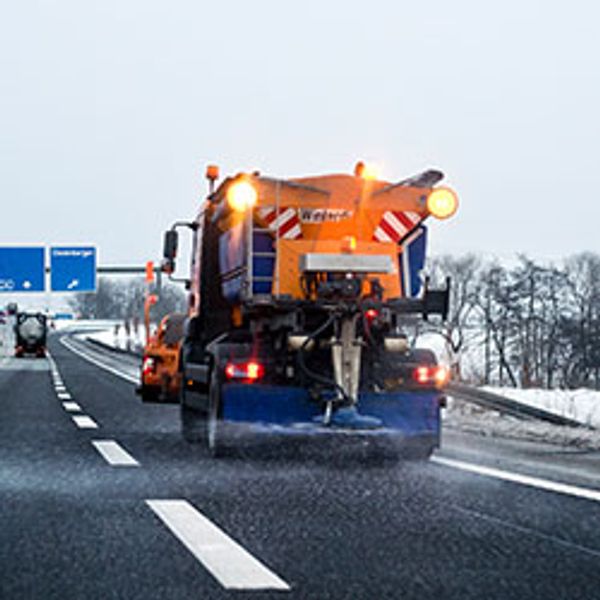 As temperatures drop, states douse roads in chemicals to melt snow and ice. While the chemicals are necessary to improve safety and keep roads clear, they can ruin equipment.
"In the Northeast and Upper Midwest, it is very common to use two very corrosive chemicals, magnesium and calcium chloride," said Mike Hasinec, vice president of maintenance for Penske Truck Leasing. "Although they are very effective, they are very detrimental to equipment because of their corrosive nature."
---
Protecting Equipment
Hasinec said the chemicals tend to get in the nooks and crannies of vehicles and can reactivate when they get wet. "Once a vehicle has been exposed to those chemicals, if you don't keep it clean and try to be proactive to remove it, it can continue to cause damage," Hasinec said, adding that there is a salt eliminator that can be used to wash vehicles. "You want to wash the vehicle to try to get the chemical off as soon as possible."
Brass fittings on hoses, such as air lines, can be affected by chemicals, as can wiring on after-treatment systems and automated transmissions. "Even though those are protected with weather pack, the road chemicals can wreak havoc," Hasinec said. "Those chemicals get in the connection, and they tend to wick up the wire. Then you start having intermittent issues that are like looking for a needle in a haystack."
In certain markets, Penske applies a product designed to prevent rust and damage from chemicals before the trucks are delivered. "We apply it in any location that is in the Rust Belt," Hasinec said. "Once a year we reapply that product."
Removing Snow and Ice
Some states require drivers to remove snow and ice from their equipment before they take to the road. In New Jersey, for example, if flying ice or snow causes property damage or injury to others, drivers face fines of $200 to $1,000. Hasinec said drivers could use a snow squeegee, which doesn't harm the paint, to remove snow.
Drivers should also remember to remove snow from headlights. Today's LED headlights don't get warm enough to melt snow, but Hasinec said most OEMs provide an option to heat the lights.