CVSA's 2021 Roadcheck to Focus on Mechanical Fitness, Lighting and Driver Operating Requirements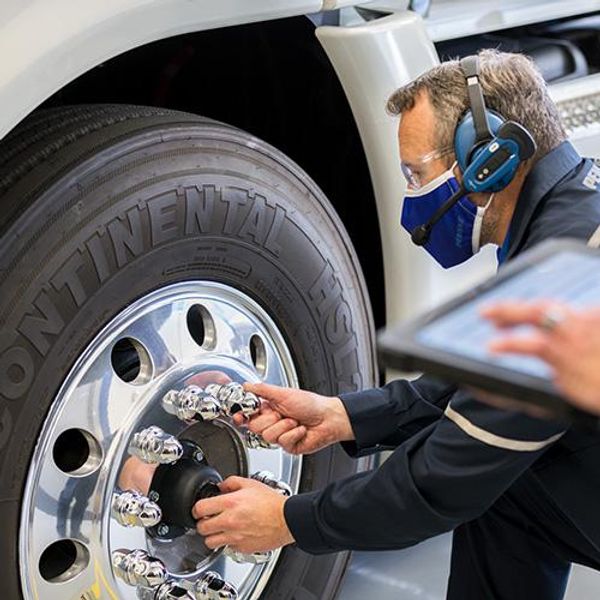 The Commercial Vehicle Safety Alliance's (CVSA's) International Roadcheck will take place May 4-6. Over the 72 hours, commercial motor vehicle (CMV) inspectors throughout North America inspect commercial motor vehicles and drivers.
---
"CVSA shares the dates of International Roadcheck in advance to remind motor carriers and drivers of the importance of proactive vehicle maintenance and driver readiness," said CVSA President Sgt. John Samis with the Delaware State Police.
The vehicle inspection includes checking brake systems, cargo securement, coupling devices, driveline/driveshaft components, exhaust systems, frames, fuel systems, lighting devices, steering mechanisms, suspensions, tires, van and open-top trailer bodies, wheels, rims and hubs, and windshield wipers.
This year, inspectors will capture data on two categories: vehicle mechanical fitness and driver operating requirements. As part of the vehicle mechanical fitness, CVSA said it would place a special emphasis on lighting. For the driver category, the agency will highlight hours of service.
Avoid Lighting Violations
Lighting devices include headlamps, tail lamps, clearance lamps, identification lamps, license plate and side marker lamps, stop lamps, turn signals and lamps on projecting loads. All required lighting devices are inspected for proper color, operation, mounting and visibility. Inspectors also examine the condition and location of reflectors and retroreflective sheeting.
The top vehicle violation in the U.S. in fiscal 2020 was an inoperable required lamp, accounting for 12.2% of all vehicle violations and 4.4% of all out-of-service vehicle violations. When considering all possible lighting-related violations issued in fiscal 2020, one in four vehicles chosen for inspection was issued a lighting-related violation. Slightly more than one in seven out-of-service violations in the U.S. was lighting-related, CVSA reported.
Lights can go out even right after a good preventive maintenance (PM) or pre-trip inspection, but there are several ways to help minimize the risk of a violation, said Mike Hasinec, former vice president of maintenance for Penske Truck Leasing.
Drivers should check the condition of their light cords on both ends. "That means the receptacle and plug that is for the tractor as well as the ones for the trailer. Keeping these clean from corrosion can go a long way in preventing inoperable lights on the trailer," Hasinec said.
In addition to inspecting light cords, Hasinec recommends careful inspection of the routing and clipping of harnesses and visual inspections of the lamps/lights themselves for damage such as cracks or broken seals.
CVSA also recommends drivers check the condition and location of reflectors and retroreflective sheeting and check all required lamps/turn signals to ensure they are operative, properly mounted and not obscured in any way.
Hasinec suggests fleets spec LED lights, which typically have multiple diodes. "Even if a portion of the diodes go out, the light still illuminates and meets the requirement of a functioning light," he said.
Achieve Overall Vehicle Mechanical Fitness
A good, solid PM program and the proper execution by drivers of the pre- and post-trip inspection can help ensure equipment passes roadside inspections, Hasinec said." Very few things can occur after a good pre-trip inspection," he explained.
The second most common roadside equipment violation for the last fiscal year was operating a CMV without proof of a periodic inspection. There are several forms of proof that meet the requirement, Hasinec said. One is a decal/sticker with the name of the company that performed the inspection along with their address and the month and year the inspection was performed. "This is what we display on the driver's side of the vehicle," Hasinec said.
The form/document of the inspection with the same information for the decal/sticker also meets the requirement. "For those simply displaying the decal/sticker, the form must be made available to an inspector if requested," Hasinec said.
The third most common roadside violation for fiscal year 2020 was clamp- or roto-type brakes out-of-adjustment. Hasinec said that with automatic slack adjusters in vehicles, brakes are sometimes cited as being out of adjustment when they are on the verge of adjusting. To prevent that, he advises drivers to apply the brakes several times at a high PSI level — 90 or better — when pulling into a scale.
Other top roadside violations include no/discharged/unsecured fire extinguisher, tire-flat and/or audible air leak, tire tread depth lower than 2/32 of an inch and windshield wipers inoperative/defective. "These are things that are inspected during any good PM inspection as well as pre- and post-trip inspections," Hasinec said.
Comply with HOS Requirements
Drivers of commercial property-carrying vehicles are subject to rules that limit the hours spent driving and working and regulate the minimum amount of time drivers must rest between driving shifts. Drivers will be asked to provide their operating credentials and hours-of-service documentation, and they will be checked for seat belt usage. Inspectors will also watch for apparent alcohol and/or drug impairment, CVSA said.
If no critical inspection item violations are found during a Level I Inspection, a CVSA decal will be applied to the vehicle, indicating that the vehicle successfully passed a decal-eligible inspection conducted by a CVSA-certified inspector.
Vehicles with critical inspection item violations could be placed out of service, meaning the driver cannot operate the vehicle until the vehicle and/or driver qualification violations are corrected.
April 2021