Groups Join Together to Help Drivers Find Truck Parking
Finding available truck parking is critical for professional drivers and fleets, and members of the trucking and travel plaza industries have joined together to help professional drivers find available truck parking via a mobile app, called Park My Truck.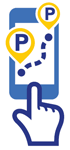 The app provides truck parking information as well as information on available spaces. It was created by the Truck Parking Leadership Initiative, which includes the American Transportation Research Institute (ATRI), the National Association of Truck Stop Operators (NATSO) Foundation and the American Trucking Associations (ATA).
ATRI's research has revealed that "managing critical truck parking" ranks as one of the industry's most pressing concerns, said Dan Murray, vice president of ATRI.
"Lack of information about available truck parking across the nation is a serious problem, both for drivers and the inspectors who interact with them," said Collin Mooney, executive director of the Commercial Vehicle Safety Alliance. "We owe it to the hardworking drivers who spend countless hours on the road to do everything we can to help them find safe, convenient and accessible places to park and get the rest they need."
Park My Truck allows all parking providers to report the number of spaces available in their lots.
"Federal and state governments have spent decades and millions of dollars researching truck parking and testing technology-based approaches to counting available spaces, but not one of these efforts has yielded nationwide data about parking availability," said Lisa Mullings, president of the NATSO Foundation. "We are still many millions of dollars and years away from implementing an electronic system that can count parking nationwide."
Mullings said the groups moved forward on the app because drivers need the information. "We don't want to allow our pursuit of a perfect solution to prevent us from implementing a good solution today," she said.
Park My Truck is accessible by internet or through smartphone apps by all professional drivers, trucking fleets or other industry participants.
July 2016 / Updated May 2018