Fleets' Use of Sustainable Technology Is Increasing Across All Sectors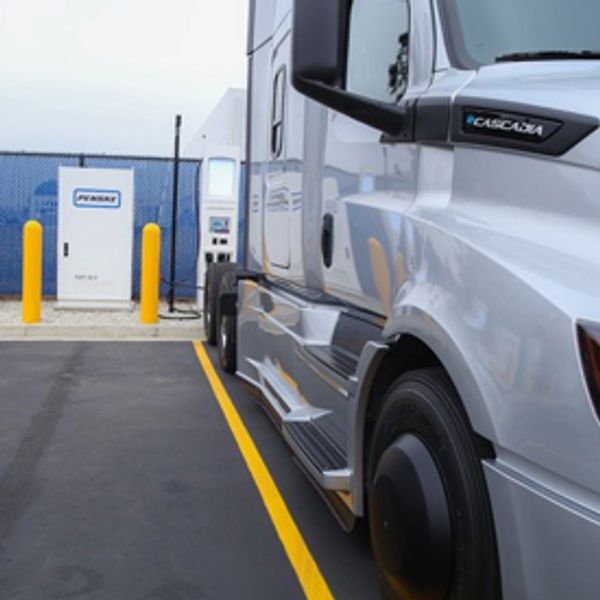 Sustainable vehicle and fuel use is growing in medium and heavy-duty fleets, and fleets said the technologies are competing on the metrics most essential to fleet managers—performance, range and overall total cost of ownership. What's more, fleets said there is no material performance loss when switching to most renewable fuels, including renewable diesel, natural gas and electricity.
---
"While diesel and gasoline have dominated the industry for decades, we are now experiencing a new era where clean and advanced vehicle technologies can compete on performance, range, and an overall total cost of ownership, all while delivering significant environmental sustainability benefits," said Erik Neandross, CEO of Gladstein, Neandross & Associates, which created The State of Sustainable Fleets 2020 report.
The report, which was sponsored by Penske Transportation Solutions and released during a virtual event on August 11, is the first comprehensive, technology-neutral industry report that examines the current state of prevalent sustainable vehicle platforms for medium- and heavy-duty fleets and identifies the trends shaping the future of the industry.
Natural gas, propane, battery electric and hydrogen fuel cell electric vehicles—the four sustainable vehicle technology platforms covered in the study—are all growing in vehicle and fuel sales on a year-over-year basis.
Historically, fleets have turned to alternative fuel vehicles to reduce their total cost of ownership, which typically requires lower fuel costs relative to diesel or gasoline to offset the higher capital costs of purchasing the replacement vehicle technology. However, the report found that many U.S. fleets are now transitioning to clean vehicle technologies to meet environmental sustainability objectives as they seek to reduce climate-altering greenhouse gas emissions and regional smog-forming pollutants.
Drew Cullen, senior vice president of fuels and facility services for Penske Transportation Solutions, said Penske works closely with its customers to navigate the complexities of operating and managing the latest vehicle technologies as they seek to reach their sustainability goals.
Cullen spoke as part of a panel presentation following the report's release. He was joined by Brian Cota, vice president of sales for national accounts for Daimler Trucks North America, and Giorgio Delpiano, vice president of fleet solutions for Shell Oil Co.
While the adoption of sustainable vehicle technologies is increasing, fleets reported that there are still barriers to overcome. "The need for more fueling infrastructure and incremental capital costs are consistent challenges found across all vehicle platforms," the study said.
Experts expect diesel and gasoline to remain the dominant technologies for U.S. fleets for at least the next decade, especially in the most demanding heavy-duty applications such as long-haul trucking. However, Neandross said competition from the emergence of commercially viable sustainable technologies has caused manufacturers and fleets to push the limits of efficiency improvements and increasingly turn to renewable fuel replacements for diesel and gasoline.
Natural Gas Vehicles
Neandross said that medium- and heavy-duty natural gas vehicles have achieved technological and commercial maturity. Fleets leading the adoption of heavy-duty natural gas vehicles (NGVs) report seeing low total cost of ownership through fuel cost savings and reduced maintenance, while simultaneously achieving steep emission reductions.
Today there are approximately 90 models of Class 2 through Class 8 compressed natural gas vehicles. Additionally, commercial NGV sales grew 19% from 2017 to 2018 and another 13% in 2019, which set a record with more than 6,000 units sold. About 85% of the 53,000 registered NGVs in America today are in heavy-duty applications, specifically goods movement, refuse and public transit.
Propane Vehicles
The propane vehicle and fuel market also continues to grow. Medium-duty Class 3 through 6 vehicles are a strong market for propane vehicles, supporting urban delivery vehicles, vans, utility trucks and shuttle fleets. The incremental capital cost for a typical medium-duty propane vehicle, relative to its gasoline or diesel vehicle counterpart, is as low as 25%. "Approximately 90% of commercial fleet propane refueling takes place at relatively inexpensive, easy-to-install private fueling stations, complemented by 765 public-access propane stations nationally," the study said.
Battery Electric Vehicles
The vast majority of battery electric vehicles (BEVs) in the market today are used to transport people, but original equipment manufacturers (OEMs) are introducing or expanding BEV commercialization efforts across all vehicle classes. Today, at least 21 OEMs offer for sale more than 90 medium- and heavy-duty BEV models. Collectively, OEMs expect to provide at least a dozen more Class 3 through 6 BEV models within the next three years. More than half of the fleets surveyed have used BEVs, which is expected to grow to 69% by the end of 2021. Study respondents consistently cited reduced maintenance costs, high driver satisfaction and fuel cost savings when charging is managed as essential benefits of BEVs.
Hydrogen Fuel Cells
Although still in demonstration and pre-commercial phases, medium- and heavy-duty fuel cell electric vehicles (FCEVs) are of interest to fleets. The technology provides a zero-emission pathway while offering excellent acceleration and efficiency, extended driving range, and fueling times that can be comparable to gasoline and diesel vehicles. The number of fuel cell electric vehicle products for medium- and heavy-duty fleets is expected to more than double over the next two years. However, there are fewer than 50 public hydrogen stations across the nation, and almost all existing stations are in California and designed to fuel light-duty FCEVs.
August 2020