Platooning Technology Continues to Advance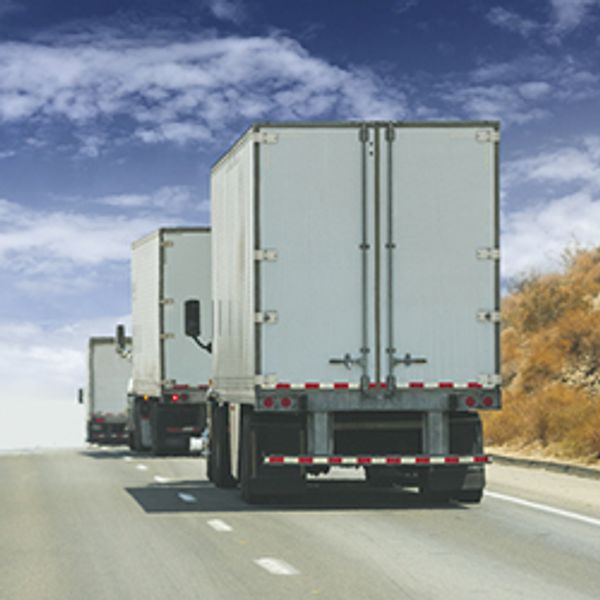 The latest autonomous technology available in Class 8 trucks is expected to support truck drivers instead of replacing them. Truck platooning technology, which utilizes a lead truck driven by a human that is then linked to two or more vehicles, is expected to be the most widely used autonomous technology.
That is according to a workforce study from the American Center for Mobility, which was led by Michigan State University and the Texas A&M Transportation Institute.
---
Platooning uses connected vehicle technology so the lead vehicle can communicate and coordinate with other trucks, enabling them to travel in close proximity. Through the use of radar, cameras and reflective light scanning, tractor-trailers can travel at a following distance of 30  to 50  feet. That would result in fuel savings as well as safety benefits. In the early stages of platooning, drivers would remain in each vehicle within the convoy to monitor the driving situation and assume control of the vehicle if needed.
In a presentation on platooning technology, Jeff Loftus, technology division chief for the Department of Transportation's Federal Motor Carrier Safety Administration, said the technology has multiple benefits. They include energy savings from aerodynamic drag reduction, the potential for reduced highway congestion due to shorter following distance, and possible safety improvements from faster reaction times and supporting systems, such as air disc brakes.
Loftus said several entities are conducting truck platoon demonstrations and testing, including Daimler, PACCAR – Kenworth/Peterbilt, Volvo, Navistar and Peloton Technology.
Peloton has said it expects to make two-truck platooning commercially available by the end of the year. The driver-assistive system enables two drivers to form a two-truck platoon under appropriate highway conditions, the company said in a press release.
Unlike highly automated vehicles, Peloton's system requires drivers of each truck to be in full control of steering and remain actively engaged in driving," Peloton said. "The system links the active safety systems of Class 8 trucks, enabling pairs of trucks to coordinate their speeds and maintain a safe, aerodynamic following distance."
September 2018