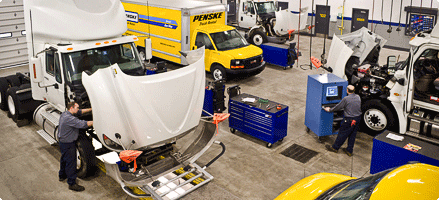 Penske Invests in Shops and Equipment to Meet the Complexity of Maintaining Today's Trucks
By choosing a Penske full-service lease or contract maintenance, you get access to state-of-the-art service centers staffed with experienced maintenance technicians. Avoiding the investment and effort to establish your own service center frees your capital to invest elsewhere.
Our facilities are optimized to speed up vehicle service time, ensure consistency of service, and leverage the latest diagnostic technologies. We invest in our people and facilities to ensure your fleet operates at the highest level. And you can feel confident knowing that all work and waste streams are handled in full compliance with safety and environmental standards.
Moreover, we can also maintain vehicles at your shops. We can bring in our systems and capabilities right on-site.
Optimizing Resources and Controlling Expenses
With Penske, you can reduce risks and investments, free up capital and ensure a safe and compliant fleet operation. At Penske you will find:
Over 4,000 technicians trained through our ASE-certified continuing automotive service education (CASE) programs
Up-to-date, proprietary OEM diagnostic technology comparable to any OEM dealer
Our proprietary ServiceNet maintenance system keeps your vehicles' service histories
Rigorous safety and compliance standards
PartsNet parts inventory tracking and ordering system ensures we have the right part in stock
Proper disposal of waste stream and used materials
A comprehensive, cost-saving tire management program
Mobile repair trucks for Penske quality service on site
Web-Based Network of Support Nationwide
Maintenance record tracking and productivity performance is closely managed with ServiceNet, our comprehensive system. Because we have the system networked throughout all our service locations, your equipment history is known at all of our locations, taking the guess-work out of maintenance and repairs, and speeding up the process for the technician.