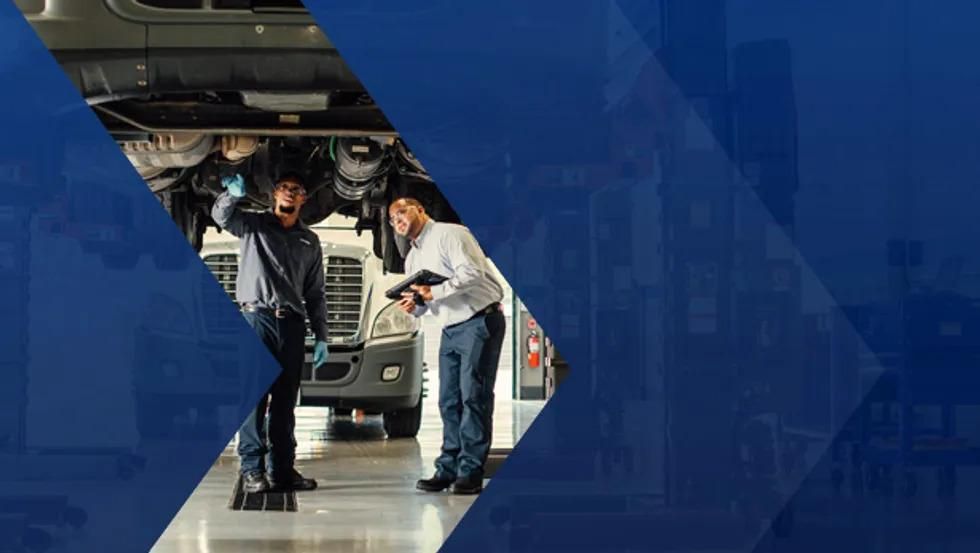 Maintenance Benefits
How Outsourcing Maintenance Can Add Value to Your Business
Maintaining commercial vehicles is a complex process. Service technicians must know what they need to maintain, at the necessary intervals, and have the proper tools and training to complete the maintenance. The technology used in today's heavy-duty vehicles is evolving at a rapid pace. Sometimes, there are changes in the same model year. Increasingly, fleet operators are finding it advantageous to outsource so they can focus their efforts on their core business. Here are five of the key benefits that come from turning to a third-party provider, such as Penske:
Increased Uptime
Engine technology has changed rapidly during the past five to six years, and it is important that a maintenance provider stay current on those changes. At Penske, our economy of scale and the relationships we have allow us to stay current with the development of new components and technology. Our associates have been trained and we have the tools in place before new technology hits the market. That means we are ready when you need us, increasing your uptime.
Outsourcing maintenance can also allow fleet operators to minimize the uncertainties that come from new equipment. When technology first comes on the market, users don't always know how much maintenance will be required. Leaving it to a third party reduces the fleet operators' risk.
Greater Access to Big Data
Big data is the combination of information from truck engines and other components as well as maintenance and service records and is a powerful tool that maintenance technicians can utilize when diagnosing and repairing vehicles. When fleets outsource maintenance, they are able to tap into knowledge gathered from all of the vehicles the provider services instead of just their own.
Because of the size of our fleet, the volume of work we do and the various manufacturers we work with, our data analysis often enables us to see trends taking place before others in the market.
In fact, access to big data enables Penske to offer Dynamic PM® services – data-driven preventive maintenance services that improve compliance, quality and uptime.
Improved Insight
Because today's vehicles gather and report an increased amount of information, it is important for fleet operators and their maintenance providers to be able to sift through that data and understand what it means to performance.
Current tractors can have between 700 to 1,000 fault codes just for the transmission alone. Penske has the knowledge and infrastructure to make use of this data to make decisions about what needs to be done.
Reduced Capital Investments
As engines change, the tooling and software needed to repair and maintain equipment changes as well. By outsourcing maintenance, fleet operators leave the necessary tools to their providers.
Software considerations are complex. Penske works with a supplier that has all of the diagnostic software on one platform.
What's more, it is crucial that vehicles receive timely software updates. The average truck requires a software update five to seven times per year. Staying current with software updates is critical for enhancing performance.
Decreased Focus on Human Resources
In today's environment, simply finding qualified technicians can be a challenge. According to the U.S. Bureau of Labor Statistics, trucking will need to recruit 67,000 new technicians by 2022 due to growth or to replace men and women currently working in the industry.
By outsourcing maintenance, fleet operators no longer have to recruit and retain technicians. Penske has made attracting technicians a priority and devotes time to working with organizations to find technicians and encourage potential employees to enter the field.