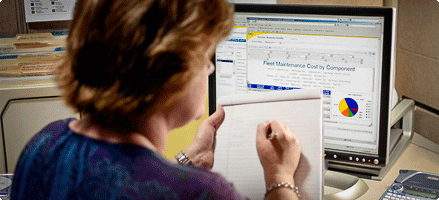 Managing Your Fleet Operations Just Got Easier
A large portion of your day is probably spent gathering data, solving problems and communicating with your team. MyFleetAtPenske.com, our customer-centric website will put critical fleet information and management applications at your fingertips so you can make informed business decisions and spend your time on more important matters.
Get immediate access to monthly bills, preventive maintenance schedules and fleet and unit data. MyFleetAtPenske.com even makes tax and compliance reporting easier. With all your fleet data in one place, bookkeeping, taxes and regulatory reporting are easier and more accurate.
Some of the applications that provide you instant visibility are:
Invoicing
More details; less paperwork.
Review invoices
Print copies of invoices
Customize and download reports
Ask questions online
Repair Notification
Keep up with billable repairs and control costs.
View repair orders
Download repairs
See charges before you are billed
Performance Reporting
Customizable reporting so you know what's driving costs.
Maintenance costs
Roadside assists
Unit repairs
Fleet Profile
Check details and fleet information all in one location.
Check VIN #, unit mileage and more
See contract information
View details of your entire fleet profile
Download details for insurance companies and banks
Maintenance Scheduling
Stay on top of preventive maintenance schedules.
View upcoming PMs online
Reschedule preventive maintenance online
Stay off the phone and on schedule
Roadside Assistance Monitoring
Monitor incidents for better planning and less downtime.
View up-to-the-minute status
Identify recurring issues by unit
Validate service call billing
Fuel Locator Application
Find Penske and Comdata fuel locations by: