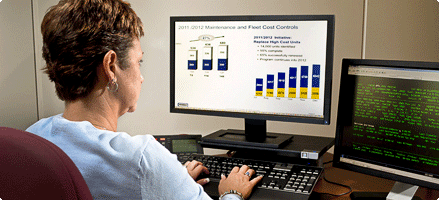 Spend Less, Deliver More
Running a private fleet can be costly. However, outsourcing with Penske lowers your total costs to operate your vehicle over the vehicle's lifetime. Whether you choose full-service leasing or only need to cover your maintenance requirements, outsourcing with Penske will:
Maximize fleet uptime through comprehensive preventive maintenance and late model year leased vehicles
Increase predictability in ongoing monthly and variable fleet costs
Assure fleet reliability through high service uptime and access to rental vehicles when needed
And that's just the beginning of the benefits. Our customers enjoy:
Regular preventive maintenance at no extra charge
Nearby service locations or on-site maintenance services
Quick access to rentals during busy seasons
Reduced administrative burden
It all adds up to happier drivers, better on-time delivery, and more satisfied customers.
How we do it
Penske's unique size and scope mean we can do more for less. Penske has:
Bulk purchasing power to source the best parts at the best prices
A nationwide network of service locations attracting the best technicians and providing wide service coverage
Sizable, ongoing investment in the latest technology for our shops
Resources to offer you the finest online customer tools to manage your vehicles
A dedicated, well-trained service staff at your disposal
Experience our strengths
Whether you choose full-service leasing or only need to outsource your maintenance requirements, we'll help. Learn more about: