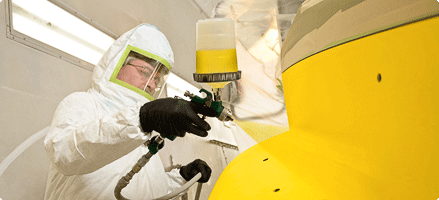 Control Accident Risks and Repair Costs with Full Visibility
Accidents happen. But you need to understand risks and have visibility to all costs associated with getting the truck back on the road. At Penske, we understand that accidents cost more than just the top-level towing and repair rates. You need to factor in the additional costs of downtime, replacements, storage and management costs.
Penske can provide collision repair and vehicle refurbishment through our network of collision repair centers. We repair trucks of virtually all makes and models. That means consistent repairs, pricing, quality and professionalism. You can depend on:
Forty years' industry experience
Round-the-clock work shifts to reduce vehicle downtime
Faster repair cycles with advanced technology
Superior color matching using the latest technology and refinishing techniques
Nationwide PPG refinish warranty
Environmental responsibility
The Best Technicians
Our truck repair technicians are career craftsmen. Over 200 trained technicians repair 20,000 commercial vehicles a year. They are certified in applying premium urethane coatings using efficient, high-volume, low-pressure spray equipment. All Penske truck repair technicians meet rigorous safety and training requirements annually and receive robust incentives and benefits, so they want you up and running as much as you do.
Reliable Estimates and Updates
From the moment we begin servicing your vehicle, we track progress and share the details. Our collision repair services include:
Detailed estimates with digital photos, suitable for insurance purposes, emailed to you
Sophisticated parts and repair tracking software
Comparison estimates can be provided upon request
Vehicle repair histories accessible by any Penske facility
Weekly updates on open repairs
Monthly job closeout reports documenting repairs and cycle time
If you are using MyFleet, you can access robust reports that provide details to analyze for potential safety trends, so you can arrange for training to reduce future accidents.