Driver Assistance Technology Continues To Improve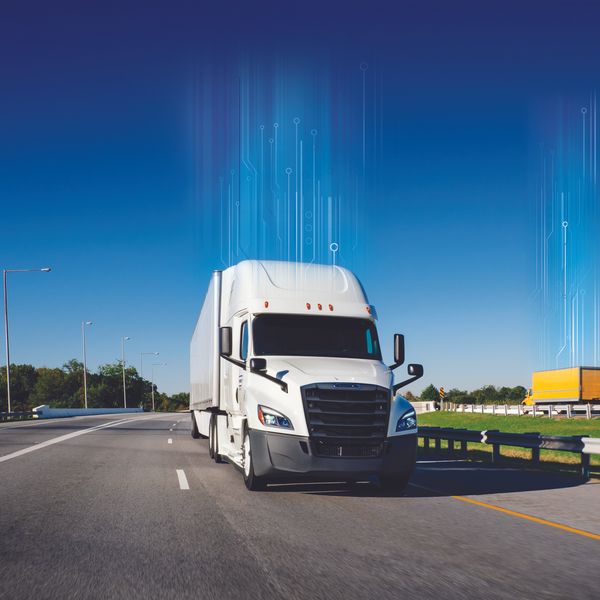 The use of advanced driver assistance systems, also called ADAS, in commercial vehicles continues to increase as fleets and regulatory agencies work to improve safety, control costs and limit liability. ADAS applications include adaptive cruise control, automatic emergency braking, blind-spot detection and forward-collision warning systems. The technology can improve driver performance, reduce fatigue and enable customized coaching.
---
"Safety technology has been available for years, and we're currently going through evolutionary changes to enhance the systems," said Chuck Pagesy, director of safety for Penske Truck Leasing. "Braking systems, lane departure systems and cameras are all getting better."
The variety and breadth of ADAS capabilities continue to grow as new technologies emerge and the use of artificial intelligence increases.
Addressing Risk
ADAS can help fleets address several of the top concerns in the American Transportation Research Institute's 2023 Critical Issues in the Trucking Industry report, including lawsuit abuse and driver distraction.
ATRI research has found that more than half of carriers — 56% — have implemented three or more new safety technologies. The organization's 2022 report on the impact of rising insurance costs on the trucking industry said that 92% of respondents had adopted new safety technology in the last three years. Road-facing cameras were reported with the highest frequency (83%), followed by speed governors (46%), forward collision warnings (43%), adaptive cruise control (42%) and lane departure warnings (42%).
Pagesy said a lot of Penske's major customers have embraced driver-facing camera technology. "It does a great job of holding the driver accountable and evaluating unsafe driving acts," he said, adding that while there was a lot of initial fear about camera use, drivers are becoming more accepting of the technology.
In addition to offering driver-coaching insights, cameras can use AI to detect when drivers are drowsy so they can send an alert to the driver or provide information to the fleet. "It can help identify drivers who have a sleeping disorder and need to get a sleep study or have problems with their circadian rhythms and may need to be on a different shift," Pagesy said.
Automatic emergency braking, which activates the vehicle's braking system when an impending collision is detected, and air disc brakes, which offer a shorter stopping distance, can help reduce the risk of a crash. Adaptive cruise control that adjusts the truck's speed based on its following distance also minimizes risk and can help increase driver awareness. "It gives them possibly a quicker notice to react or take evasive measures," Pagesy said.
Maintaining Equipment
While ADAS solutions improve safety, they can also add a new level of complexity for fleet maintenance technicians. To properly train technicians on ADAS, the American Trucking Associations' Technology Maintenance Council (TMC) has identified four critical areas. These include onboarding technicians with new ADAS equipment training, performing preventive maintenance (PM), diagnosing driver complaints and performing collision repair procedures.
Robert Braswell, executive director of TMC, said it is important for technicians to take a whole-truck approach when servicing ADAS-equipped vehicles since even small things can change ADAS operation or calibration. "One of the things we have noted is the need to guarantee all of the ADAS sensors are considered when a repair is made," he said.
When performing PM procedures, technicians should visually inspect all systems, wiring and brackets and look for any cracks or scratches that could impair the view or functionality of cameras and sensors. They should also check for stored, inactive or active fault codes and software updates.
Working Together
TMC has worked with other industry stakeholders through Tech-Celerate Now—a joint project through the Federal Motor Carrier Safety Administration and industry groups. As part of Tech-Celerate Now, TMC has created recommended practices and helped standardize nomenclature.
TMC was recently awarded a Phase 2 grant through Tech-Celerate Now. "It is a multi-phase, four-year program designed to continue the program, develop more recommended practices, educate people on all things with ADAS and assess the technical barriers to adoption," Braswell said.
As part of its Phase 2 work, TMC plans to create a recommended practice on driver training for ADAS, provide guidance on red flags fleets should look for in ADAS-related data and steps to take, and develop guidance on how technologies alert drivers and intervene, Braswell said.
Deciding What To Spec
Penske associates can work with customers to help them determine which safety technologies will help them accomplish their goals.
Additionally, Tech-Celerate Now created a tool so users can enter their fleet data to determine the return on investment they can expect. The calculator is available at https://www.fmcsa.dot.gov/tech-celerate-now/tech-celerate-now-roi-calculator.