Preventive Maintenance, a Proactive Approach and Inspections Keep Roadside Violations Down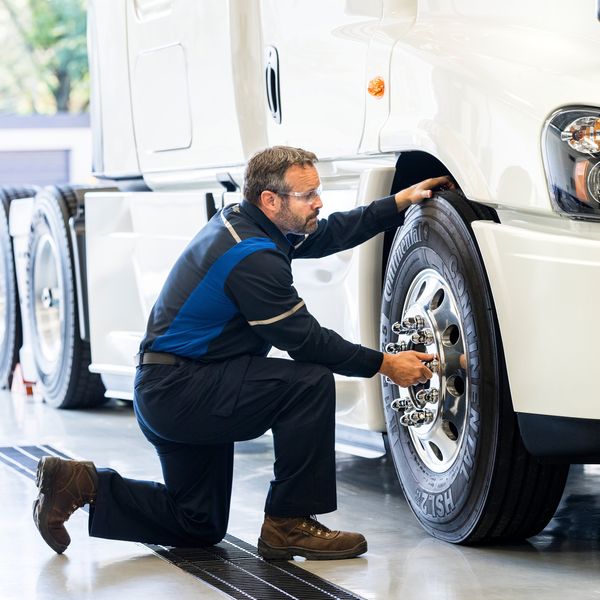 There were more than 3 million roadside vehicle inspections in 2022, and the most common violations found were related to tires, brake systems and lights. Many violations are easily avoidable with preventive maintenance (PM), a proactive approach, and pre and post-trip inspections.
---
"Developing a sound preventive maintenance program is the key to reducing roadside events and preventing violations. Completing a detailed inspection is part of a good PM program, and scheduling enough shop time to repair the defects found during the PM inspection is just as important but often underestimated," said Chris Hough, vice president of maintenance design and engineering at Penske Truck Leasing.
Penske's maintenance analytics team has developed metrics that estimate the required time needed to complete follow-up repairs based on the year, make, model and mileage of each unit. "These metrics help our maintenance facilities properly schedule enough time for each shop visit," Hough said.
Customers fueling at Penske locations also have the benefit of customer service representatives who check fluid levels on oil, antifreeze, and windshield solvent while the tractor/truck is fueling. They also complete a visual inspection to spot fluid leaks, bump the tires to check for any issues, and clean the windshield and mirrors.
Hough said drivers are a critical part of the equation. "Completing thorough pre and post-trip inspections and addressing any found defects is key to preventing over-the-road issues," he said. "Our recommendation is that if drivers see something unusual, such as a leak of any sort, they bring it to our attention."
Penske has over 750 maintenance locations across the country that can service customers and a 24/7 call center to meet customers' needs while on the road.
Penske also has a team that monitors diagnostic data coming off our equipment. The team has taken more than 1,000 fault codes and broken them up into red, yellow, and green to help technicians, carriers, and drivers understand which codes need immediate attention. "If it is a critical issue, we can determine that a truck is going to break down before the driver even calls us. In these cases, we work with our customer to schedule repairs before it results in a roadside breakdown," Hough said.
Avoiding Common Violations
Technicians, fleets and drivers can focus on key areas to avoid violations. These include:
Tires: Tires are one area where it helps to be proactive. The Department of Transportation (DOT) requires tires to be changed at 4/32 for steer tires and 2/32 for drive and trailer tires. "Penske's pull points are 5/32 and 3/32. We want to replace tires before they reach the DOT minimum requirements," Hough said.
Pulling tires early ensures customers won't get below the DOT minimum, plus they don't have to bring a truck in ahead of the next PM to replace the tires. Replacing tires early also helps protect the casings. "As the tread wears down, it is easier for the casing to be damaged," Hough said.
During PMs and any shop visit, technicians always check the tire pressure. If a tire is 15% below the recommended pressure, Penske removes and replaces the tire. "This ensures that we are not masking a tire leak by just adding air. Our locations use a tire inflation system to check the tire pressure on multiple tires at one time and the system automatically adds air to reach the predetermined pressure if a tire is within our 15% PSI range. If the tire is outside the range, the system will not add any air," Hough said.
Lights: Lights are becoming less of an issue, especially for Class 8 tractors and straight trucks, due to an increase in the number of LED lights being used, but they still require maintenance. "LED light systems still need to be checked; wiring harness corrosion and chafed harness problems are still a major issue for our industry," Hough said.
Brakes: Penske's technicians focus on brakes during PM inspections. As part of their work, technicians check brake lining thickness, drum/rotor condition and airline routing. They also check closely for any type of air leaks during an inspection.
Brake adjustment and air system leaks are always at the top of the out-of-service criteria, and brakes are sometimes cited as being out of adjustment when they are on the verge of adjusting. To help prevent adjustment issues, Hough advises drivers to apply the brakes with some force a few times before entering an inspection station. "On the Penske side, the majority of our tractors have air disc brakes, and brake stroke adjustment is no longer an issue with air disc brakes," he said.
Professional drivers can also ensure brake safety by checking brake lining thickness and air lines during pre and post-trip inspections on both the tractor and trailer, ensuring glad hand seals are in good condition and not leaking, and confirming tractor and trailer air lines are properly secured and not rubbing the catwalk when connected.
February 2023