Fleets That Lease Improve Uptime While Cutting Maintenance and Fuel Costs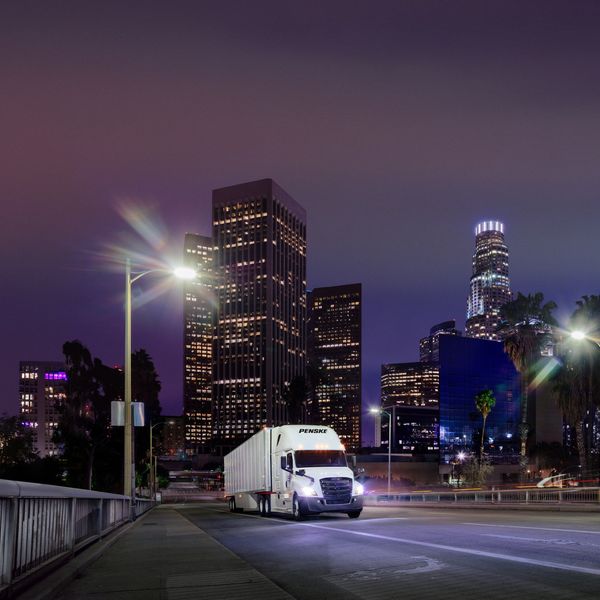 Increasing uptime and managing costs are critical for fleets, especially in the current operating environment. Leasing can provide several benefits to fleets, including reducing breakdowns, driving down maintenance costs and improving their fuel economy, which all impact the bottom line.
---
Fleets That Lease
Fleets are using a variety of leasing strategies. The 2022 National Private Truck Council (NPTC) Benchmarking Survey reported that the majority of the Class 8 vehicle population, 51%, is leased, while 49% is owned. Nearly two-thirds, 62%, are classified as full-service leases. Roughly one-third of fleets, 32%, report a combination of ownership and leasing heavy-duty equipment, while 26% report leasing all or a majority of their equipment.
Improved Fuel Economy
Leasing allows fleets to take advantage of late-model equipment. The average age of leased equipment is 3.6 years, compared to 4.3 years for owned equipment. Driven by the trade cycle strategies, leased fleets experienced a fuel economy of 7.03 mpg versus the 6.8 mpg average that owned fleets reported.
Fewer Breakdowns
Maintenance costs have grown significantly in the past few years, driven by inflation, supply chain challenges and the high price of labor. American Transportation Research Institute's (ATRI's) 2022 Operational Costs of Trucking Analysis determined that repair and maintenance costs experienced their largest-ever spike as carriers faced unfavorable equipment markets. Unexpected breakdowns and unscheduled repairs can lead to driver frustration, expensive roadside service calls and missed delivery windows, which can be detrimental to customer satisfaction.
The NPTC survey reported that fleets that prefer leasing and, as a result, outsource more of their maintenance spend have a breakdown percentage of just 3.5%, compared to 5% for fleets in an ownership position that lean toward in-house maintenance.
The survey, which gathered information from 105 companies, reported that even when breakdowns occur, the costs tilt in favor of leased fleets. NPTC found that breakdowns average $590 among leased fleets compared to the $1,349 that owned fleets reported. The savings is even with higher mileage that leased fleets tend to log. Leased fleets average 96,000 miles annually compared to 86,000 miles logged by owned fleets.
Outsourced Maintenance
The number of fleets outsourcing maintenance has increased, with most respondents indicating that they outsource at least a portion of their maintenance spend. "Given the increases in leasing as an acquisition strategy, it should come as no surprise," the report stated.
Specifically, the survey found that 52% of the fleets report outsourcing nearly all their maintenance. That is, 90 cents of every maintenance dollar is spent with an outside service provider, up from 46% in the previous report.
Fleets' Top Concerns
Driving down maintenance and fuel costs can help fleets manage several of the top challenges cited in the NPTC survey. While driver issues rank as the No. 1 issue fleets face, they are closely followed by equipment and maintenance-related issues. Fuel-related issues driven by high diesel prices ranked as fleets' No. 3 concern, followed by costs of operations and inflationary impacts.
To learn more about how leasing or outsourcing maintenance can benefit your fleet, contact Penske at 1-844-847-9519.