Drivers, Fleets Navigating Diesel Exhaust Fluid and Sensor Shortages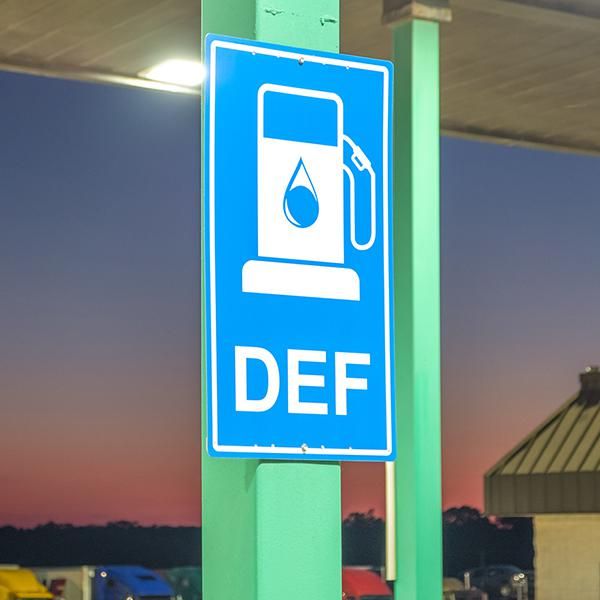 Supply chain disruptions have affected all types of products, including the chemical urea, which is one of the primary components in diesel exhaust fluid (DEF). The challenge for the trucking industry is that trucks will shut down without DEF, so it is important for drivers to top off their DEF tanks when they can.
---
"The industry has been experiencing price increases and spotty outages. Due to the outages, we are advising drivers to fill their DEF tank every time they fill their diesel tanks," said Chris Hough, vice president of maintenance services for Penske Truck Leasing.
DEF can be purchased in several ways, including bulk DEF at fuel islands and 2.5-gallon jugs. DEF, which is stored in a separate fuel tank on the truck, is an integral part of the selective catalytic reduction (SCR) functionality.
DEF is injected into the exhaust stream of diesel vehicles where it reacts with a catalyst to turn NOx gases into nitrogen and water. "Without DEF, the SCR system is unable to convert the Oxides of Nitrogen (NOx) gasses and the system will start to de-rate the truck," Hough said.
Global chip shortages have also affected DEF sensors. "These sensors are required on heavy-duty diesel vehicles to ensure that the emissions controls needed to meet clean air standards are in place and working," The Enviornmental Protection Agency (EPA) said in a statement. "Typically, if a DEF sensor fails, it is easy to simply install another one. The shortage of these sensors, however, has created a problem for many vehicle owners who cannot get a replacement."
EPA reported that it has approved all the software solutions provided to the agency by engine manufacturers, and manufacturers have already begun implementing many of them. Each manufacturer has numerous engine families, and each family typically requires a unique software solution.
This is an industry-wide issue, and although emergency/temporary software packages have been approved and released to address sensor parts shortage issues due to chip shortages, the SCR emission system is still functioning as designed. "There is a big misconception that the emergency/temporary software changes are disabling the SCR system, and that is not true. It is important to emphasize the SCR system continues to work as designed, except the dash DEF-level gauge is disabled," Hough said.
Penske Truck Leasing is closely monitoring DEF availability as well as solutions to help mitigate customer downtime due to the sensor shortages.
January 2022