Penske Focuses on Technology and Training to Attract and Retain Diesel Technicians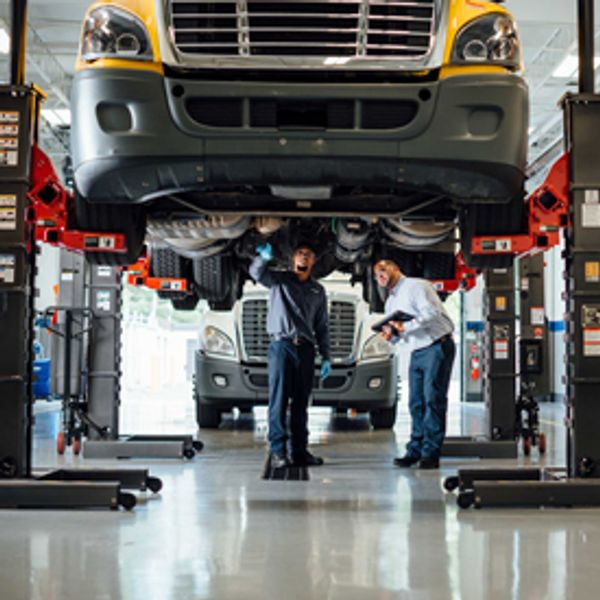 Diesel technicians are at the heart of a strong maintenance program, and technicians remain in demand. The Department of Labor has reported that the employment of diesel service technicians and mechanics is expected to grow by 5% from 2018 to 2028. The Bureau of Labor Statistics has also reported that 67,000 technicians will be needed to replace retired workers, and 75,000 new techs must be added to meet demand by 2022.
---
Mike Hasinec, former vice president of maintenance support for Penske Truck Leasing, said new technology could help attract technicians, and Penske has several programs to recruit, retain and promote technicians. That ensures Penske has the talent it needs across its 750+ locations.
"When technicians come to work for us, we let them know they will be working on the latest technology vehicles and that Penske has a robust training system so they can keep pace with new technologies," Hasinec said, adding that Penske has also invested heavily in technology inside of the maintenance bays. "When you look at the type of tooling we equip our shops with, you can see we're working towards a very clean environment for the technician, reducing old methods to perform certain task such as changing oil, fuel filters, testing batteries etc."
Penske also has its voice-directed Dynamic PM®. "As we utilize this technology for other tasks and work on incorporating VR with it, we're confident this will help with attracting younger candidates," Hasinec said.
DYNAMIC PM®
This is Penske's unique data-driven preventive maintenance service that analyzes features and trends unique to your fleet, and it delivers the right preventive maintenance for each truck's specifications and age.
VOICE-DIRECTED TECHNOLOGY
When a Penske technician is completing a Dynamic PM, they use speech recognition technology to guide and record specific inspection steps. It's 100% paperless and allows for increased visibility by maintenance supervisors. This means technicians can complete a PM specific to the vehicle with a focus on accuracy, safety and quality.
Penske has a Technician Certification Program and an internal training team that consists of more than 40 associates. The team provides training to new hires as well as experienced technicians.
"One of the group's sole focuses is on our Level 3 technicians, which are entry level," Hasinec said, adding that trainers focus on developing less experienced technicians so they may become more proficient and productive in a shorter period of time with specific hands-on events.
Penske also has several pathways to management and will work with technicians that want to advance their careers, which aids in retention.
May 2020