Maintenance Needs and Benefits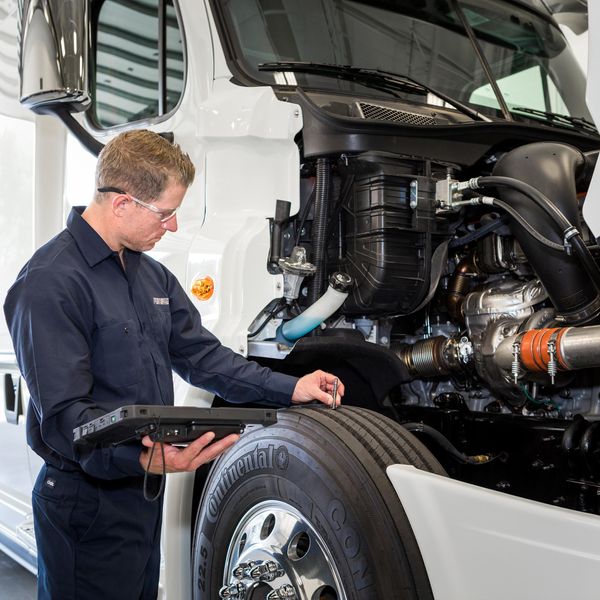 A strong focus on preventive maintenance (PM) can help control costs, reduce downtime and extend the life of parts and components, all of which can help to improve fleet operations within a business. However, managing and maintaining a commercial fleet can get more complex as vehicle technology advances. At the same time, many fleets are keeping equipment longer due to supply chain challenges and manufacturer delays. This makes a focus on equipment upkeep even more important.
Strengthening Maintenance with Data
"Penske Truck Leasing monitors component failures continuously and uses the data to add preventive maintenance steps by make and model," said Chris Hough, vice president of maintenance design and engineering at Penske Truck Leasing. That helps technicians to get ahead of issues before they result in an over-the-road breakdown.
Live diagnostic reporting systems can also help identify patterns that provide insights into potential failures. "By using repair history associated with fault codes and applying data science you will learn of the need for certain repairs," Hough said. "This allows you to be proactive and make the repairs prior to the component or system having a failure."
Penske Truck Leasing has taken more than 1,000 fault codes and broken them up into red, yellow and green to help technicians, carriers and drivers understand which codes need immediate attention.
Extending Tire Life Through Proper Care
Like many products, tires have been affected by supply chain challenges, and keeping tires functioning properly improves safety and fuel economy, prevents over-the-road failures and extends their lifespan.
Tire care is especially important as temperatures increase. Tires typically run hotter and wear faster in warm weather, and the tread portion of the tire becomes softer, making tires more susceptible to punctures from road debris.
Because tire pressure increases as temperatures rise, there is a risk of over-inflated tires. When air pressures are inaccurate, tires flex in ways they weren't designed to, changing the shape of the tire's footprint, creating irregular wear patterns and reducing tread life. Also, underinflated tires build up excessive heat, potentially causing premature failure. To help mitigate the risks tires face, tire inflation pressure must be checked with an accurate tire pressure gauge.
Keeping Brakes Safe
Brake-related violations comprise the largest percentage of all out-of-service vehicle violations cited during roadside inspections, and according to last year's three-day International Roadcheck data from the Commercial Vehicle Safety Alliance (CVSA), brake systems and brake adjustment violations accounted for 38.9% of all vehicle out-of-service violations, the most of any category of vehicle violations.
"Poorly maintained brake systems can reduce the braking capacity and stopping distance of large trucks and motorcoaches, which poses a serious risk to driver and public safety," said CVSA President Capt. John Broers with the South Dakota Highway Patrol. "In those split-second emergency situations, the proper functionality of the brake systems on large commercial motor vehicles is crucial."
CVSA will hold its annual Brake Safety Week Aug. 21-27, and CVSA encourages proactive vehicle maintenance in advance of the event. Brakes should be checked at every preventive maintenance inspection and drivers should regularly check brakes during pre- and post-trip inspections, Hough said.
To help improve brake safety and functionality, drivers and technicians should focus on the following:

Slack Adjusters: Automatic slack adjusters in vehicles are sometimes cited as being out of adjustment when they are on the verge of adjusting. To prevent that, he advises drivers to apply the brakes several times at a high PSI level — 90 or better — when pulling into a scale. Typically, drivers apply brakes at a 20-30 PSI, but stabbing the brakes and applying 90-100 PSI three or four times, will balance a slack adjuster on the verge of adjusting.
Chafed Lines: The routing and clipping of brake lines should be checked at every preventive maintenance interval. Drivers should make sure they store their airlines that connect to the trailer properly after every use. They also need to make sure that lines are not rubbing the catwalk when connected to the trailer.
Air Leaks: Penske technicians check for air leaks when they conduct preventive maintenance on a unit, and drivers should check for air leaks during pre-trip inspections. Releasing the parking brakes and applying the brake pedal/treadle valve can help drivers monitor their air gauges. The unit should not lose more than two pounds of pressure in a one-minute period of time and a combination (tractor/trailer) should not lose more than three pounds of pressure in a one-minute period of time. If it does, it needs to be repaired before drivers continue with their trip for the day.
Seals: Drivers and technicians need to regularly inspect their gladhand seals where the tractor and trailer connect to minimize the risk of corrosion within the braking system.
Wear: Hough recommends replacing or repairing brakes before they hit the Department of Transportation (DOT) minimum standard of 1/4 inch. As part of its preventive maintenance guidance, Penske Truck Leasing replaces the brake lining between 5/16 and 3/8 of an inch.
During the brake portion of the CVSA inspections, inspectors will look for missing, non-functioning, loose, contaminated or cracked parts on the brake system. They'll also look for non-manufactured holes, such as rust holes and holes created by rubbing or friction, and broken springs in the spring brake housing section of the parking brake.
Inspectors will also listen for audible air leaks around brake components and lines and ensure the air system maintains air pressure between 90-100 psi. They will also check for S-cam flip-over and measure pushrod travel. They will check that slack adjusters are the same length (from the center of S-cam to center of clevis pin) and the air chambers on each axle are the same size. They will also inspect required brake-system warning devices, such as anti-lock braking system (ABS) malfunction lamp(s) and low air-pressure warning devices. In addition, inspectors will ensure the breakaway system is operable on the trailer, and inspect the tractor protection system, including the bleed-back system on the trailer.
Keeping up with Inspections
Even with advanced vehicle technology, proper pre- and post-trip inspections are a crucial component of vehicle safety. The inspections can help drivers avoid violations during roadside inspections, prevent accidents and ensure the vehicle is safe while also preventing breakdowns out on the road, saving drivers time and ensuring on-time deliveries.
During every pre-trip inspection, a driver should look for leaks, damage, operable lights, properly secured cargo, sagging equipment and anything that looks out of place. Drivers should also review the previous DriverVehicleInspectionReport.
The post-trip inspection gives time for carriers to make necessary repairs and it also provides documentation the next driver can review during his or her pre-trip inspection. If the previous driver noted defects or deficiencies, the new driver must sign the inspection report to acknowledge that he or she has reviewed it and that there is a certification that the required repairs have been performed. Motor carriers must maintain the original of each vehicle inspection report and the certification of repairs for three months.