Ongoing Training Is Essential for Maintenance Technician Success and Equipment Uptime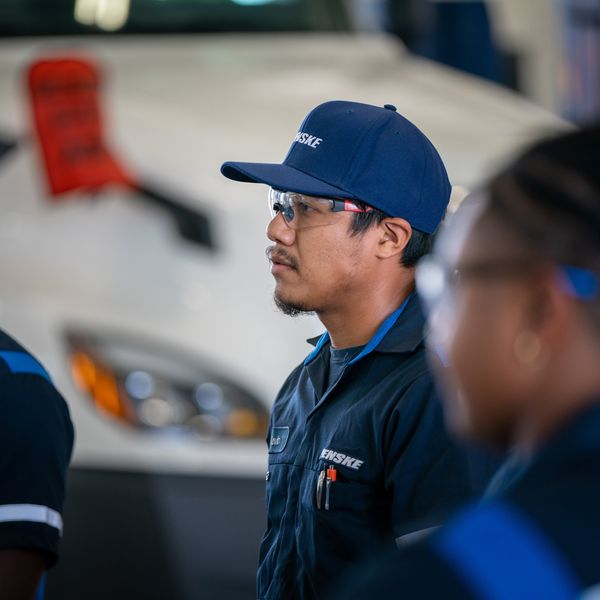 Maintenance of Class 8 vehicles is central to ensuring reliable, safe equipment, but maintaining, diagnosing and repairing equipment is a complex process. Ongoing training is essential for maintenance technicians to stay current on changes in equipment technology, increase their skills and grow their careers.
---
"Similar to sharpening a tool, a technician must regularly sharpen their skills in order to keep pace with the vast amount of technical expertise needed to perform their work," said Holly Gerke, vice president of maintenance technical training and development for Penske Truck Leasing. "The complexities of the vehicles we maintain challenge our technicians on a daily basis."
Maintaining a fleet requires that technicians know the fundamentals of truck components, a vehicle's interworking systems, electronics, complex diagnostics and mechanical repairs so they can accurately identify the causes of failures across all makes and models.
"Combining what they know, recalling information learned in training, knowing how to find safety and service procedures, then transferring all of this to actually perform the work needed is a nod to the technician's craft," Gerke said.
Mastering any job takes years of experience, and ongoing training provides opportunities for a technician to gain clarity, knowledge and new skills.
Penske Truck Leasing offers a wide range of skill development opportunities for technicians and customer service representatives (CSRs). In 2008, Penske was the first truck leasing, truck rental and logistics company to earn ASAE accreditation for its Continuing Automotive Service Education program. The company has built on it since then.
Today, Penske has about 45 internal technical trainers who provide in-person sessions on proper inspections, preventive maintenance, systems understanding, mechanical skills and diagnostic aptitude. Additional training is delivered through online courses, mixed-reality instructor-led classes, and tactical accelerated guidance sessions in which technicians work on units within Penske facilities to apply skills.
Training is not only critical to driving equipment uptime but also helps attract and retain technicians. Employees in all fields are increasingly interested in career development opportunities, and maintenance technicians are no different.
"From servicing our customers at the fuel island to in-depth diagnostics, our training has the opportunity to support the progression of an associate's career path," Gerke said. "If we do not feed technicians' hunger to learn more, we open ourselves to losing them to find nurturing somewhere else."
Penske has mapped out the critical knowledge and skills needed for every technician level. "We provide a set of pit stop training classes for entry-level and then progressive mechanical/diagnostic training for more tenured associates," Gerke said. "In addition, we provide learning plans that include online training courses customized for Penske maintenance as well as needed training requirements from our suppliers."
Training programs often include a combination of online prerequisite courses, instructor-led training and, in some cases, job-based observation requirements. "For example, our Technician Certification Program is designed to provide the foundation, the application, and the observation which leads to advancement opportunities," Gerke said.
Penske offers a nationwide network of maintenance facilities, skilled technicians, and the latest diagnostic technology and tools. Learn more about
Penske's truck maintenance services
, including
collision repair
, contract maintenance,
on-site maintenance
and mobile maintenance.