Partner with Penske to Mitigate On-Site Maintenance Risks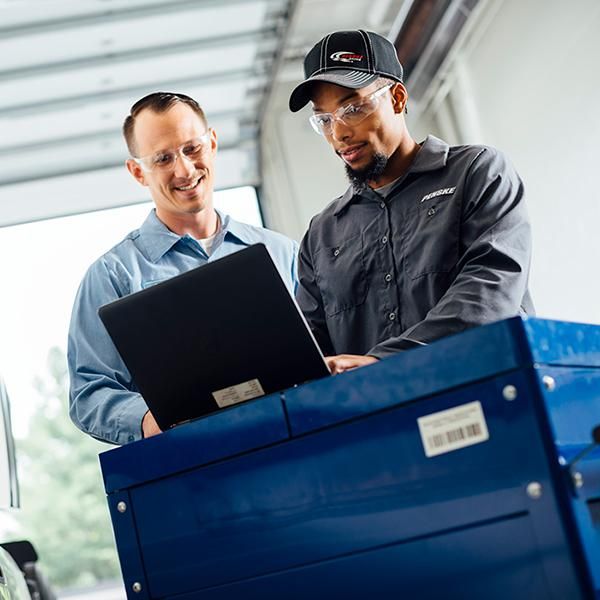 The very nature of maintenance and heavy-duty truck repair work can pose an increased risk of injury to employees. Private fleets that operate a vehicle maintenance facility have most likely experienced the risks and hard costs of hazardous waste, inadequate or outdated tools, and injuries.
---
Private industry employers reported 2.7 million nonfatal workplace injuries and illnesses in 2020, according to the latest figures from the Bureau of Labor Statistics (BLS). There were also 1,176,340 nonfatal injuries and illnesses that caused private industry workers to miss at least one day of work in 2020. Ten occupations, including maintenance and repair workers, accounted for 38.3% of all private industry cases involving days away from work, BLS reported.
The National Council on Compensation Insurance found that the average workers' compensation indemnity and medical cost per lost-time claim was $53,700 in 2020. Plus, companies can incur tens of thousands of dollars in indirect costs. Also, consider that a single workers' comp claim of $105,000 for a company with a 10% profit margin must be matched by an additional top line $1.05 million in revenue just to break even.

However, outsourcing maintenance operations can transfer the risk, along with the cost of maintaining a qualified technical staff, to a third-party provider. Penske can provide on-site management of private fleets' existing maintenance facilities, which enables maintenance facilities to reap the benefits of a cost-efficient, in-house maintenance program while mitigating risks associated with the shop.
Penske operates maintenance facilities for its customers nationwide, giving private fleets the convenience of an on-site shop, along with a well-maintained fleet. Customers also enjoy additional peace of mind because Penske assumes the responsibility of shop safety, compliance, staffing and operations.

With each company's operations unique to their business and culture, Penske's on-site operation is adapted to meet its customers' requirements and goals. Penske also offers a workers' comp risk assessment and professional safety assessments for its customers.
When taking over a fleet's maintenance facilities, Penske partners with its customers on retention and staffing goals, which may include improving the skillset of the current team or adding to the fleet's talent pool. Penske assumes the responsibility of human resources management and offers employees a competitive pay scale as well as ongoing training and career advancement opportunities.
Penske's investment in a fleet's vehicle maintenance facility also includes upgrades to systems, diagnostic tools, and tooling to ensure technology is brought up to date and remains current. That can require a significant investment. Diagnostic tools alone can cost an additional $10,000 to $20,000 a year or more.
Penske also takes on the expense of managing inventory and will purchase existing, usable inventory so customers can free up capital to fund key strategic initiatives.
Partnering with Penske also allows private fleets to take the risk off their own balance sheet and put it on Penske's. Penske's record proves that it's a responsible, safe and preferred fleet maintenance service provider. Penske's team of fleet specialists can work with customers to create a tailored maintenance plan to best meet their fleets' needs.