Stay Current on the Increasing Number of State-Level Regulations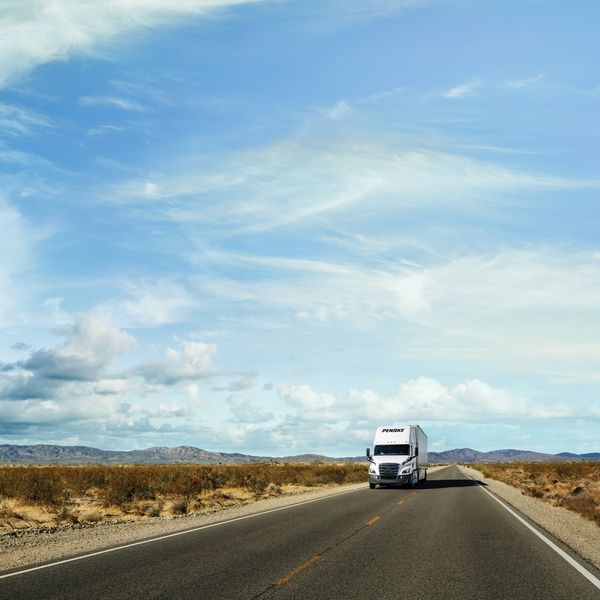 New regulations affecting fleet operations are increasing, and carriers must comply with existing requirements while keeping up with the latest changes. The federal government, as well as states, are creating stricter emissions requirements. California often takes the lead at the state level, and several measures the California Air Resources Board (CARB) has adopted are being introduced or implemented in other states.
Keeping up with federal, state, and local regulations and record-keeping requirements can be a full-time job. Penske closely tracks regulatory requirements and works with equipment manufacturers to stay current on new and upcoming rules to ensure its customers are prepared.
Here are four regulations shaping the future of trucking:
Advanced Clean Fleets Rule
The Advanced Clean Fleets Rule (ACF) applies to companies that purchase equipment and mandates a 100% zero-emissions transition for on-road vehicles with GVWRs of 8,501 or more, yard tractors, and some light-duty package delivery vehicles between 2023 and 2042. Fleets are divided into drayage, public, and federal and high-priority fleets. California adopted the measure this year, which has been introduced in the Senate in New York.
ACF reporting requirements differ depending on the fleet type. Drayage fleet requirements, for example, apply to drayage vehicles that deliver to port and railyard facilities, and only zero-emission vehicles can be added to CA drayage operation starting January 1, 2024. Legacy diesel trucks must be removed when the engine reaches 18 years or 13 years and 800,000 miles. In California, trucks must visit a seaport or railyard at least once a year starting in 2024 to remain on the registry.
Requirements for high-priority and federal fleets apply if a company owns or dispatches 50 or more vehicles under common ownership or controls more than $50 million in gross annual revenue with at least one vehicle operating in the state. The federal fleet requirement applies to federal government fleets, hired affected fleets or subsidiaries, or fleet combinations with 50 or more trucks. They must only add zero-emission vehicles to their fleet after January 1, 2024, but may purchase near zero-emission vehicles if no zero-emission vehicle is available until 2035.
The ACF drayage truck reporting deadline is December 31, 2023. CARB said it is developing the online system to ensure access before the deadline.
Advanced Clean Truck Rule
While the ACF applies to companies that purchase equipment, the Advanced Clean Truck Rule (ACT) applies to manufacturers and sets a zero-emission vehicle sales requirement and a one-time reporting requirement for large entities and fleets.
In California, the rule begins with the 2024 model year. In Massachusetts, New Jersey, New York, Oregon, and Washington, the rule begins with the 2025 model year. It starts with the 2026 MY in Vermont and the 2027 MY in Colorado. The rulemaking is in progress in Washington, D.C., Connecticut, Illinois, North Carolina, Maryland, Maine and Rhode Island.
ACT impacts the manufacturers who sell more than 500 vehicles over 8,500lbs GVWR, along with businesses that have a gross revenue greater than $50 million (beginning in 2019), operated a facility in the state in 2019, and have at least one vehicle with a GVWR more than 8,501 pounds. It also applies to fleets and brokers with more than 50 vehicles with a GVWR of more than 8,501 pounds and operating a facility in the state.
The rule created requirements for retailers, manufacturers, and brokers to submit information about shipments and fleets operating or dispatching 50 vehicles or more and report their existing fleet operations. CARB said the information will help identify future strategies to ensure fleets purchase available zero-emission trucks and place them in service where suitable to meet their needs.
Transportation Refrigeration Unit Requirements
Transportation refrigeration units (TRUs), which provide essential refrigeration needs for consumer products, are also subject to state and federal regulations. California established new requirements on TRUs beginning in 2022. Under the rules, all TRUs manufactured after December 2022 must use a refrigerant with a global warming potential value of less than 2,200 or no refrigerant. They also must have an OEM-supplied label.
Starting with the 2023 model year, new TRUs, except truck TRUs, must meet a preventive maintenance (PM) emission standard of 0.02 g/hp-hr or lower. By December 2023, TRU owners must register their CA-operated TRU, including out-of-state based TRUs, with CARB and pay a fee every three years.
Compliance extensions are available if delivery or installation is delayed through no fault of the owner, such as manufacturer or installer delays or delayed processing of financing. To qualify, applicants must show that they made a good-faith effort to comply by December 31 of the applicable compliance year. Additionally, trucks with TRUs must transition to zero-emission technology by the end of 2029. CARB has established a phase-in period, beginning in 2023, for fleets operating four or more TRUs.
CARB is also offering extensions for zero-emission truck TRU requirements due to unforeseen, temporary, or extenuating circumstances outside of the TRU owner's or owner/operator's control that prevent the installation of zero-emission fueling Infrastructure at the facility where the truck TRU fleet is domiciled. TRU owners must apply at least 12 months before the zero-emission truck TRU compliance deadline for delays due to utility infrastructure upgrades and at least three months prior for other delay types.
Warehouse Actions and Investments to Reduce Emissions Regulation
Warehouses are also subject to new requirements in California. The Warehouse Actions and Investments to Reduce Emissions (WAIRE), sometimes called the Indirect Source Rule, is a truck traffic-based credit and deficit system impacting Class 2B to Class 8 trucks.
Under the rule, facility operators within some regions of the South Coast Air Quality Management District's jurisdiction must monitor and submit accurate vehicle travel data, and they must earn a specified number of points through emissions-reducing activities or pay mitigation fees. Penske has several solutions to help companies secure point-earning opportunities, such as using electric yard hostlers and tractors.
The regulation requires warehouses with more than 100,000 square feet of indoor space within a single building to complete emission mitigation actions and investments. Those within the specific areas must comply even if they only employ a portion of their facility for storage if they occupy at least 50,000 square feet of that area. There are compliance phases based on the size of the warehouse. Warehouses 250,000 square feet or more must comply beginning in 2022, while warehouses 150,000 feet or larger must comply this year. Warehouses 100,000 square feet or more will have to comply beginning January 1, 2024.
Contact your local sales representative to learn more about Penske's equipment and the regulatory support we offer customers.
August 2023