Penske App Creates Convenience for Drivers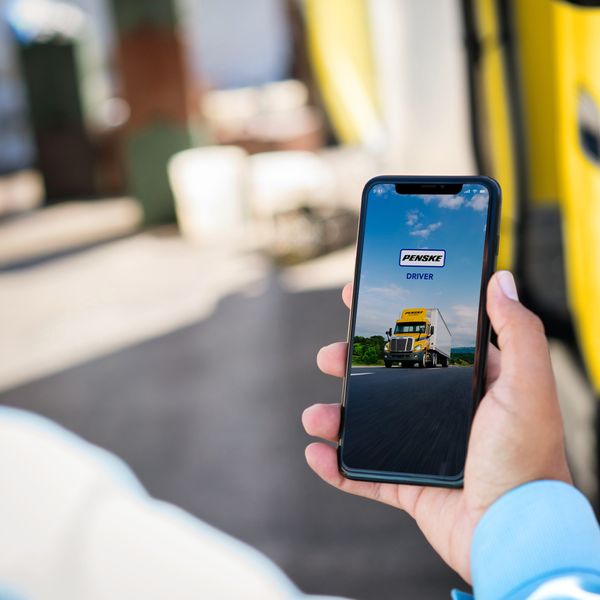 Penske's free app for drivers, Penske Driver™, gives them tools to remain compliant with electronic logging device (ELD) mandates and complete their daily tasks, including submitting fuel receipts, requesting roadside assistance and more.
---
Meeting ELD Mandates
Drivers operating rental trucks are still subject to hours-of-service rules and regulations, and Penske has made it easy for drivers to comply. The Penske Driver app connects using Bluetooth® technology inside Penske's rental trucks. The app synchronizes with the truck engine and remains connected to ensure the driver is always in compliance with the ELD mandate, even when there is no cell service.
The app has also been certified as an ELD in Canada. The app meets the requirements of the Canadian ELD mandate, asking commercial carriers and drivers to log their HOS electronically.
Getting Help
Drivers can access 24/7 roadside assistance without ever having to make a call, which can save time and help ease frustration. If they need help, drivers can submit a request via the app, receive real-time updates on their request and even track requests made via a phone call. The app also provides Penske's support team with the information they need to expedite repairs.
Finding Locations
The app provides detailed information on the rental, leasing, service and fueling locations closest to the driver. It also provides information on parking locations, which can help drivers reduce the amount of time they spend looking for a space. Parking can be particularly hard to find in some high-traffic areas. The list is constantly updated.
Submitting Receipts
Drivers can submit fuel receipts electronically, cutting down on the number of paper submissions needed to be mailed in to complete the Driver Trip Report. For leasing customers, mileage can be submitted automatically if they integrate their telematics data with Penske. In many rental vehicles, mileage is automatically captured through the vehicles' telematics devices.
Checking In
The app also provides a seamless, low-contact way for drivers to check in for service visits from their vehicle. The app replicates the in-person or kiosk check-in process and enhances communication with the maintenance team.
Using the App
Drivers can download the app from Google Play or Apple App Store. When launching the app for the first time, drivers will need to create an account by clicking the "Register" button. They will be prompted for an activation code, which can be provided by their Driver Admin or by an associate when picking up the vehicle. The activation code connects the vehicle to the customer's specific company. Once the activation code is entered, drivers can create their account.
February 2023