Proper Reefer Maintenance Can Extend Trailer Life
Ensure your loads stay cool on the road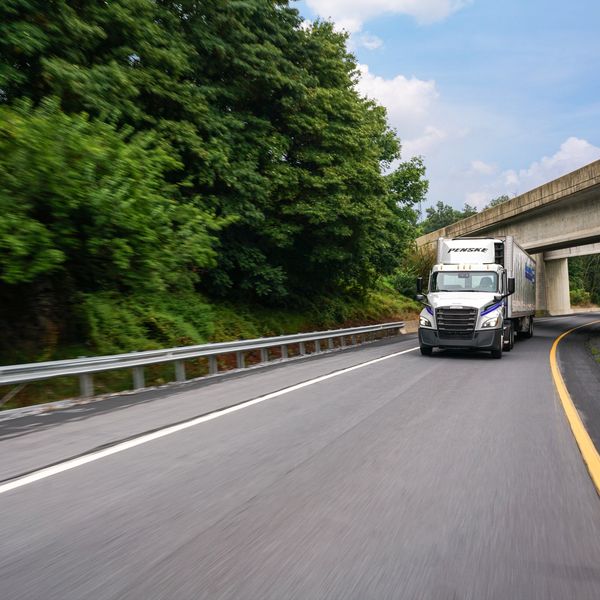 Refrigerated trailers are among the equipment affected by supply chain shortages and manufacturer backlogs, which means maintenance on transportation refrigeration units and trailer bodies is taking on even more importance to ensure equipment keeps products cold and meets quality and safety expectations.
---
"Over the last several years, production shortages have driven extended trailer and trailer refrigeration unit (TRU) life cycles. Now more than ever, maintaining a thorough preventive maintenance program is essential to limiting downtime," said Chris Hough, vice president of maintenance design and engineering at Penske Truck Leasing.
Properly maintaining TRUs includes ensuring the evaporator and condenser are clean during preventive maintenance. "Dirt and debris limit airflow, which will result in system performance issues," Hough said.
Hough said maintenance technicians also change oil and various filters and complete inspections based on engine hours of operation. Belts are inspected for indications of wear and to ensure they are adjusted correctly. Hoses and wiring harnesses are inspected for signs of chafing. In addition, door seals need to be inspected to ensure they are sealing correctly.
"When servicing trailers with multiple temperature zones, additional inspection steps must be completed. As part of the Penske PM inspection, we make sure all the bulkheads and airflow ducting are in good working order," Hough added.
The trailer itself also needs to be inspected regularly. Rips or punctures to the trailer walls allow moisture to enter and degrade the trailer insulation which, over time, will reduce the trailer's thermal efficiency, resulting in longer run times for the refrigeration unit to hold the same temperature. Doors and door hinge condition also need to be inspected for damage.
Drivers should verify that refrigeration equipment is working properly during their pre-trip inspection. "Run the unit through a system pre-trip before pre-cooling and loading a refrigeration trailer. Identifying a potential issue upfront will greatly reduce over-the-road issues," Hough said.
As part of their inspections, drivers should look for fluid leaks, examine belt condition, check for clogged floor drains, and inspect doors and door seals for damage. Trash and debris can accumulate during shipments, and taking a few minutes to pick up debris and sweep the trailer floors will greatly improve overall system performance. Drivers should also periodically check temperature settings and ensure proper defrost cycles are taking place throughout their day to reduce the risk of downtime and lost loads.
Proper pre-cooling of a trailer before loading freight is also critical to the performance of the refrigeration system. "If a trailer is not pre-cooled to the desired temperature before loading, the system may not be able to maintain the desired product temperature," Hough said.