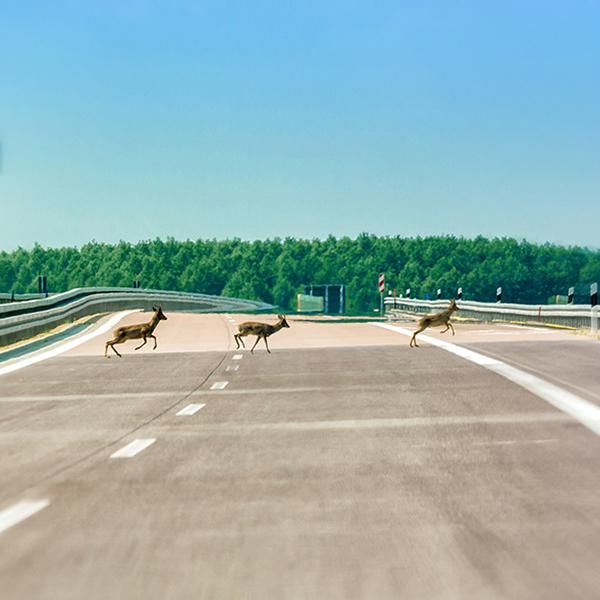 Animal collisions can cause severe vehicle damage, resulting in the need for repairs. In October, November and December, U.S. drivers on average have a one in 109 chance of a collision with an animal, according to an annual study by State Farm. The severity of crashes increases in the fall, the Highway Data Loss Institute reported.
State Farm insurance company estimates that there were almost 2.1 million animal collision insurance industry claims between July 1, 2020, and June 30, 2021, a 7.2% increase over the previous 12 months.
Crashes between motor vehicles and animals happen in every state and all year long, yet the data confirms that the most dangerous months for animal collisions are November, October and December, in that order. However, there are several ways fleets and drivers can mitigate their risk.
Employ Advanced Technology
Technology plays a critical role in improving safety. "At the present time, collision avoidance appears to be the best tool to minimize deer strikes," said Chuck Pagesy, director of safety for Penske Truck Leasing.
Most collision avoidance systems use a technology called "lidar" that is similar to radar. "It will pick up deer, but the problem is that they are rarely stationary and may be off to the side of the roadway. They then dart in front of the unit at the last minute," Pagesy said.
Many Penske customers install deer guards on the front of their units as an added precaution to reduce damage to the grille, radiator and bodywork. "They look like giant tubular steel bumpers mounted in front of the OEM bumper," Pagesy said.
Follow Best Practices
There are several best practices that fleets and drivers can follow to mitigate the risk of an animal collision.
Decrease Speed. Drivers should watch for animals around dawn and between 6 p.m. and 9 p.m., when they're most active. Additionally, animals often travel together. Drivers who see an animal on the side of the road should slow down in anticipation of others.
Heighten Awareness. Drivers need to be aware of their surroundings, paying particular attention to deer-crossing signs and wooded areas where animals are likely to travel. Drivers traveling the same route daily may find that deer consistently graze in the same fields, for example.
Remember the Peak Season. Hunting season for deer, which is also their mating season, is October through December, contributing to the higher numbers of crashes during those months.
Increase Visibility. At night, drivers should use their high beams for improved visibility. Also, deer often stick together, so if one is visible, there may be others nearby.
Brake. If an animal is in the roadway, a natural tendency can be to swerve. However, swerving to avoid an animal increases drivers' risks for hitting another vehicle or losing control of their vehicle. Swerving can also confuse the animal, so it doesn't know which way to go. Instead of swerving, drivers should slow down as quickly and safely as possible.
Buckle Up. The use of a seat belt minimizes drivers' risk of getting injured if a crash occurs.
How to Repair Damage
Damage can range from front-end damage, such as a bumper, to damage to mechanical parts, such as an air conditioning condenser or radiator.
Penske has several resources to help customers if damage from an animal collision occurs, including coordinating towing, conducting repairs and providing substitution rental vehicles. In addition to working on its leased vehicles, Penske's collision repair centers can work on company-owned vehicles.
Penske's collision repair centers make the entire repair process fast and easy with detailed email photo estimates accepted by major insurers. The amount of time needed to repair a truck varies based on the type of damage and parts availability, but Penske provides regular updates on open repairs and job closeout reports that document the number of repairs and their cycle time.
November 2021