5 Top Tips for Work Zone Safety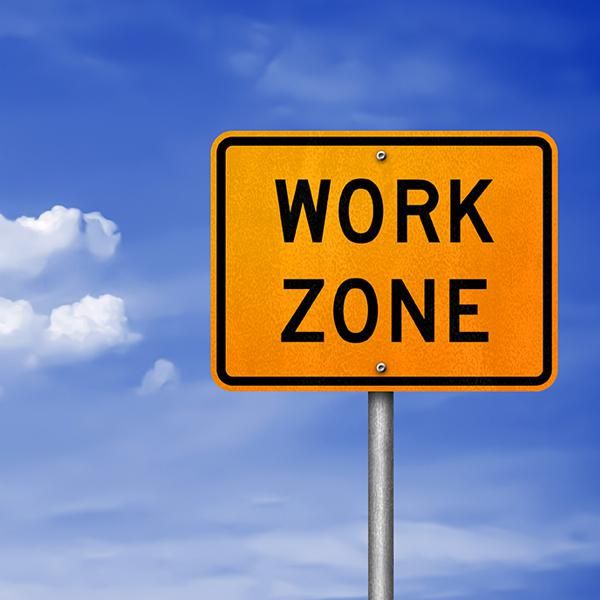 Spring marks the start of road construction season, and with more road work projects planned nationwide, professional drivers can expect to navigate more than their fair share of work zones in 2022.
---
Work zones bring potential dangers for both drivers and construction workers. In fact, nearly 84% of people killed in work zone accidents in 2019 were motorists and passengers, according to the most recent information available from WorkZoneSafety.org.
Follow these 5 top tips from the Federal Motor Carrier Safety Administration (FMCSA) to protect yourself and your vehicle while driving through work zones.
1. Slow Down!
Never drive over the posted work zone speed limit. In most states, fines for speeding are doubled in work zones, and in some states, work zone speeding can lead to jail time. By reducing your speed, you'll be able to better navigate the narrow lanes and traffic pattern shifts that occur frequently in work zones.
40% increase in work zone speeding in 2019
Source: Workzonesafety.org
2. Keep Your Distance
Vehicles tend to bunch up in work zones, and vehicles often make sudden stops, so it's important to maintain extra space between your vehicle and the car in front of you at all times. Drivers slamming into the rear of slowed or stopped vehicles is the No. 1 cause of work zone crashes, according to the American Traffic Safety Services Foundation.
29% increase in rear-end work zone collisions in 2019
Source: Workzonesafety.org
3. Plan Your Route
Before you jump behind the wheel, use a map or traffic app to know the location of active work zones along your route. Plan to avoid them or use detours whenever possible.
6 high-risk states: Arkansas, Florida, Georgia, Oklahoma, Pennsylvania and Texas
Source: FMCSA
4. Move Into the Open Lane
You should move into the open lane as soon as you see the first black-and-orange sign telling you a work zone is ahead. Pay attention to your truck's blind spots when changing lanes.
33% of work zone crashes involve Commercial Motor Vehicles (CMVs)
Source: Workzonesafety.org
5. Avoid Distraction
Avoid using your cellphone or GPS system, eating, drinking, adjusting your truck's radio or talking with passengers while traveling through a work zone.
842 fatalities in work zone crashes in 2019
Source: Workzonesafety.org
April 2022