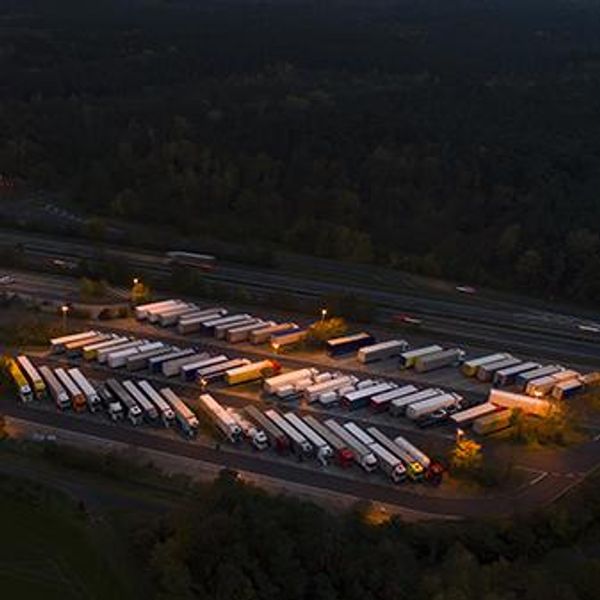 Truck parking has appeared on the American Transportation Research Institute's (ATRI) Top 10 Critical Issues in the Trucking Industry list since 2012, and it climbed two spots this year to become the third highest-ranking issue of concern. This marked its highest ranking since first appearing on the list.
"The pandemic clearly had an impact on the parking shortage in 2020 as a number of states shuttered their public rest areas, removing capacity from an already constrained system," ATRI wrote in its annual report.
In a joint ATRI and The Owner-Operator Independent Drivers Association (OOIDA) Foundation research initiative conducted earlier this year, 44 percent of respondents indicated that truck parking was "somewhat harder" or "much harder" to find during the pandemic.
Concerns over parking have also increased due to hours of service and electronic logging mandates, which are causing more drivers to look for parking at the same time.
ATRI issued several proposed strategies in its report to address parking concerns, including identifying strategic locations to expand truck parking capacity on the National Freight Network, creating a new, dedicated federal funding program designed to increase truck parking capacity at freight-critical locations, and researching the role and value of real-time truck parking information systems and truck parking reservation systems.
There are several technology-based systems currently available to help drivers find parking.
ATRI, American Trucking Associations and NATSO formed the Truck Parking Leadership Initiative, which developed the Park My Truck app that allows truck stops, rest areas and others to report the number of spaces available in their lots. Other apps that provide parking information include Trucker Path and DAT Trucker.
The Mid America Association of State Transportation Officials (MAATSO) initiative unites eight Midwestern states in the nation's first Regional Truck Parking Information Management System. The TPIMS has been deployed along high-volume freight corridors through Indiana, Iowa, Kansas, Kentucky, Michigan, Minnesota, Ohio and Wisconsin. The states collect and broadcast real-time parking availability to drivers through various media outlets, including dynamic signs, smartphone applications and traveler information websites. "This will help drivers proactively plan their routes and make safer, smarter parking decisions,' MAATSO said on its website.
American Truck Parking, a federally and state-funded project run through the University of California at Berkley, has partnered with several government parking projects that track real-time parking info, including MAATSO, and shares it on its website, combining it all in one place. It also collects data on private truck stops.
Several large truck stops, including TravelCenters of America, Love's and Pilot Flying J, provide parking information via their apps and allow drivers to reserve parking spaces.
ATRI's list of critical issues, which was released on October 27, also included the driver shortage, which was the top industry concern. Driver compensation, Compliance, Safety, Accountability and driver retention were also on the list. For the first time since 2005, insurance cost and availability appeared in the top concerns, and tort reform appeared in the survey's top 10 for the first time since 2011.
"The impacts of litigation and growth of nuclear verdicts in the trucking industry was really apparent in this year's list of concerns," said ATRI President and COO Rebecca Brewster. Earlier this year, ATRI quantified the growth in nuclear verdicts in the trucking industry, but even without that critical research, the fact that tort reform and insurance issues have resurfaced in the survey are a clear sign the industry is being impacted by rising costs related to litigation and insurance.
December 2020