What Is Preventive Maintenance and Why Is It Crucial?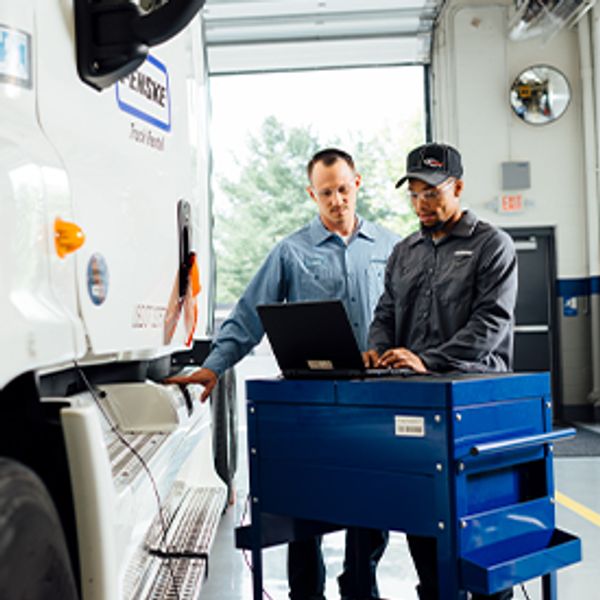 Preventive maintenance is at the core of a strong maintenance program. As part of its full-service leasing and contract maintenance agreements, Penske Truck Leasing provides maintenance for its customers, which enables private fleets to focus on their core business offerings rather than their equipment.
Defining preventive maintenance precisely can be challenging. To answer questions like "what is preventive maintenance?" and "what is included in preventive maintenance?" Penske created this helpful FAQ.
---
What Does Preventive Maintenance Mean?
"Preventive maintenance is more than changing oil and fluids. It is inspecting the items that can give our customers issues," said Chris Hough, vice president of maintenance design and engineering for Penske Truck Leasing. "There are things on the vehicle that need to be changed in regular intervals, such as diesel particulate filters and air filters, and problems can occur if they aren't."
​How Can I Improve Uptime?
Dynamic preventive maintenance features fleet maintenance software and is powered by data that enables maintenance technicians, drivers and fleet managers to take action before a problem occurs. Using fleet maintenance routines, Penske technicians can adjust inspections based on failure rates and a vehicle's history. Penske Truck Leasing captures and analyzes maintenance and vehicle data throughout its entire fleet, creating a thorough knowledge base that allows technicians to identify problems early and prevent more extensive issues.
By addressing repairs during scheduled, planned intervals, drivers aren't faced with unexpected downtime due to equipment failure. Keeping drivers moving as planned is especially crucial as hours-of-service regulations have placed strict limits on driving time. "Our goal is to have trucks literally go from preventive maintenance event to preventive maintenance event without coming back and that is huge for the customer," Hough said.
​What Can I Do To Reduce Vehicle Risk?
Maintenance is critical to sustaining a safe, reliable fleet. Properly maintained vehicles improve safety, prevent breakdowns, minimize more costly repairs down the line and improve the company's image. In addition to helping fleet meet short-term goals, properly maintained vehicles also protect the future of the business.
​How Can I Improve Fuel Mileage?
Proper preventive maintenance can maintain good engine performance and contribute to improved fuel economy. For example, tires running just 10 pounds underinflated can impact fuel economy by as much as one percent; leaking charge air connections can cause power and fuel economy issues; and regular greasing of components, such as the brake S-cams, slack adjusters, etc., can prevent things such as brakes dragging.
​What Role Does Fleet Maintenance Play in Improving CSA Scores?
Many of the roadside inspection violations, such as chafing of wires and hoses, air leaks, and tire and brake violations, can rack up points in the Federal Motor Carrier Safety Administration's Compliance, Safety, Accountability program. However, regular preventive maintenance can prevent violations. "It is all about regulatory compliance and vehicle uptime," Hough said, noting that severe infractions can result in out-of-service violations that take a truck out of operation.
​How Can Fleet Maintenance Improve Customer Satisfaction?
Customers expect their loads to be delivered on time and, in some cases, provide very little wiggle room if a shipment is delayed. Ensuring uptime improves specific delivery windows.
​How Does Fleet Maintenance Contribute To Lower Overall Cost of Ownership?
Regular, effective preventive maintenance allows technicians to make repairs or changes before there is an over-the-road breakdown or a repair gets more complicated, resulting in lower costs over the life of a vehicle. "Something as simple as an oil, fuel or coolant leak that could be fixed early on can result in a costly, large repair down the line," Hough said, adding that improved fuel economy also contributes to the overall lower cost of ownership.
​What Are Some Examples of Preventive Maintenance?
Preventive maintenance is designed to minimize the risk of breakdowns and increase vehicle uptime. Some common examples of preventive maintenance include oil changes, checking spark plugs, examining hoses and filters, as well as careful inspection of a vehicle's chassis, brakes and overall engine health.
Penske's team of fleet specialists can work with customers to create a tailored maintenance plan that best meets their fleets' needs.