Connected Fleet Solutions
Turn data into valuable insights
When it comes to operating fleets of the future, you need to make use of every tool that's available to harness the power of your data. And Penske is here to help. Our connected fleet solutions enable you to understand onboard technology, gain visibility, simplify compliance and increase fleet efficiency.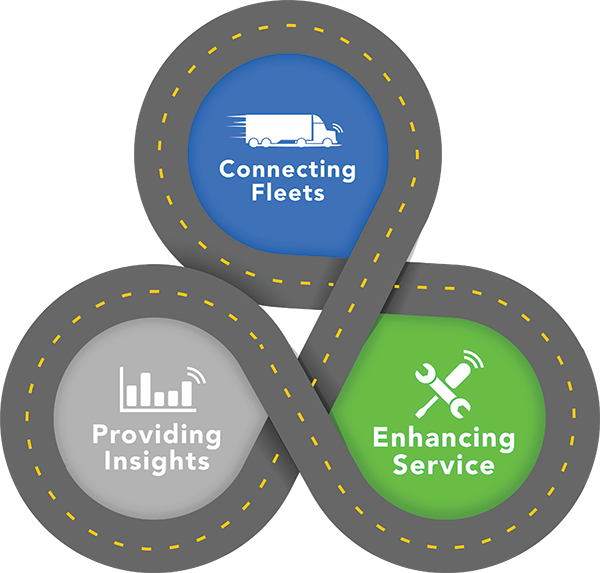 Connecting Fleets
Get objective advice from a team of experts
Understand all the available onboard technology options
Select and implement the best solution
Providing Insights
Get greater insight into fleet performance
Make data-driven fleet management decisions
Access tools that put data at your fingertips
Help drivers manage required paperwork
Ensure compliance with all laws and government regulations
Enhancing Service
Increase fleet efficiency
Boost uptime to keep your fleet running smoothly
Increase driver productivity
Maximize fleet performance
The Future Is Here
Using a proprietary, device-neutral data platform, Penske Truck Leasing can connect its systems with virtually any truck and engine configuration or telematics service provider. This unique approach makes it easy to connect your vehicles and share your vehicle data with us. We've designed these connected fleet solutions to improve vehicle uptime, safety and compliance, and help give you visibility to your fleet.
Penske's connected fleet solutions also enable faster roadside assistance call triage and improved vehicle maintenance through remote diagnostics, location data, and big data analytics. Our approach also provides a technological path to providing predictive vehicle maintenance.

Let's Talk
Find out how to turn data into valuable insights and enhance visibility into your fleet to gain efficiency. Take advantage of the greater service that connectivity provides. Move your business forward with connected fleet solutions.