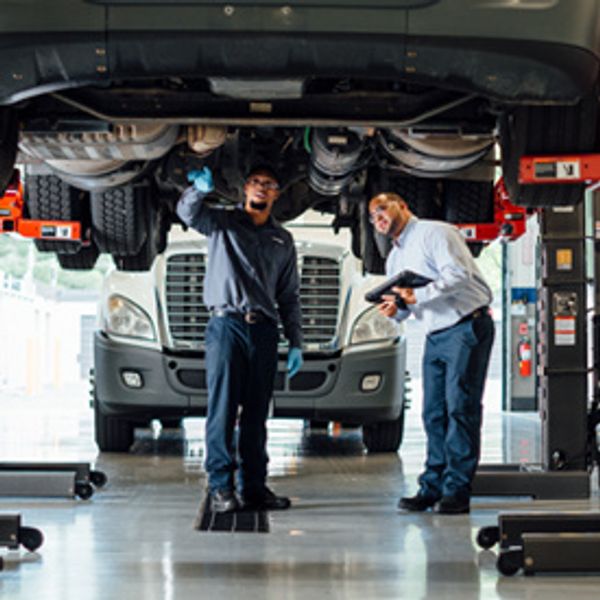 Your vehicle's diesel particulate filter (DPF) removes particulate matter or soot from the exhaust of your diesel engine to protect the air that we breathe. Over time, the filter gets dirty and requires cleaning.
If your DPF isn't properly cleaned, it can create upstream failures in the after treatment system and engine. Regens are important, but alone, will not do the job. Accumulated particulate matter and noncombustible materials can remain trapped in the filter. To properly clean the DPF it must be removed from your vehicle and put through our special cleaning process. The benefits of a clean DPF include:
Less downtime
Improved vehicle performance
Increased fuel economy
Extended DPF life
Fewer regenerations
Lower maintenance costs
Penske Establishes Own Unique DPF Cleaning Processes
At Penske, we understand the importance of timely and proper DPF cleaning. We have established our own unique DPF cleaning processes, including blowing, baking and aqueous, that are more thorough and higher quality than other processes in the industry.
Penske's Extensive Reach Reduces Fleet Downtime
We consistently and efficiently produce some of the cleanest DPFs – to 90% or better of their original capacity. While there is not an industry standard since multiple factors, such as application, duty cycle, idle percentage and fuel consumption, all impact DPF cleaning ability, we set this benchmark so that at our lease and contract maintenance customers' units do not require another DPF replacement during their term.
With strategically located DPF cleaning facilities, Penske can ship a clean DPF to anywhere in the United States in just two days. And, we keep clean DPFs stocked at our 750-plus maintenance shops in order to keep your fleet up and running.