Leading the Way for Electric Fleets
Penske is helping fleet leaders navigate the transition to battery electric vehicles (BEVs)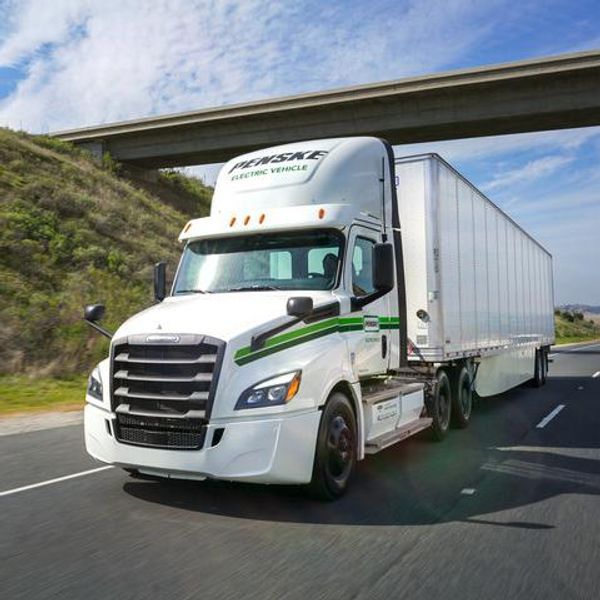 Fleet managers are closely monitoring the potential of electric fleets, and Penske Truck Leasing is helping them explore and integrate this new technology. As a leading advisor to executives seeking more sustainable fleet solutions and alternative fuels, we have been operating, supporting and maintaining alternative-fueled vehicle fleets for more than 30 years including commercial electric vehicles for a decade.
Through research, pilot projects and innovative partnerships, Penske continues to support new initiatives to help modern fleets enjoy the financial and environmental benefits of BEVs.
Sustainable Fleet Initiatives We're Leading
Battery Electric Commercial Truck Test Fleet
Penske works with original equipment manufacturers (OEMs) in the electric vehicle market to ensure that battery electric commercial trucks are on track to meet full-service truck leasing transportation requirements.
The Penske Truck Leasing EV Evaluation Fleet includes vehicles such as the Freightliner eCascadia (class 8), Freightliner eM2 (class 6 and 7), Volvo VNR electric tractor (class 8), International® eMV™ (class 6 and 7), Ford E-Transit (Class 2), Orange EV e-Triever electric terminal truck (class 8 yard tractor), Freightliner Custom Chassis MT50e walk-in (class 5 and 6), and XOS walk-in (class 6).
We are working with customers to evaluate these BEVs for various markets and deploy battery electric commercial trucks in real-world applications.
All-Electric Cargo Vans Now Available
Penske continues to expand and diversify our electric vehicle options with the introduction of the all-electric Ford E-Transit cargo vans into our fleet. This more sustainable transportation option is the first light-duty electric truck available to our full-service leasing and commercial rental customers.
The Ford E-Transit electric zero tailpipe emission vehicle is the first all-electric cargo van from a full-line automaker in North America, with a payload of up to 3,800 lbs. and an estimated range of over 100 miles.
Electric Vehicle Charging Network
The availability of charging stations is a key concern for electric delivery trucks. Penske has implemented a network of heavy-duty electric high-speed charging stations in Southern California with select locations that are equipped with an innovative battery energy storage system designed to offset demand on the electricity grid during peak charging times.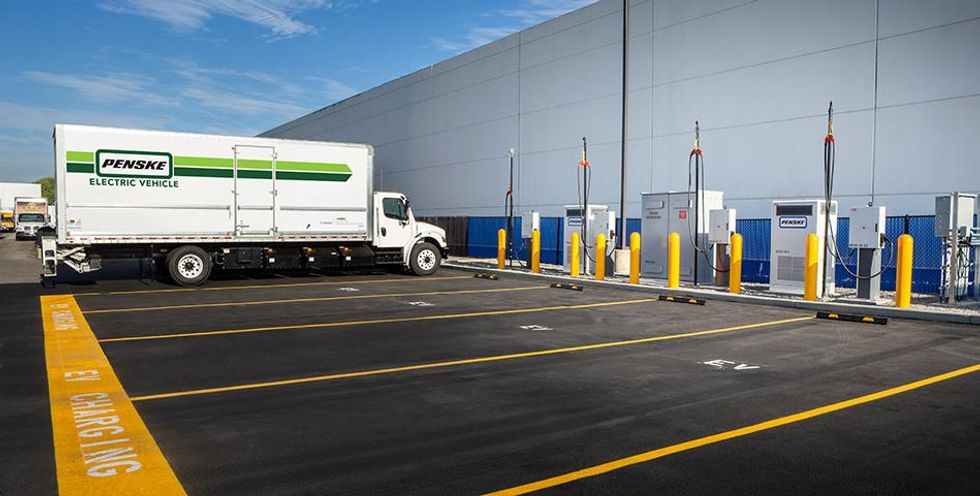 We are committed to building the infrastructure needed to encourage broader adoption of electric delivery trucks and other BEVs. We also believe that standardization around EV charging will help accelerate adoption and are a member of the Charging Interface Initiative (CharIN), a worldwide industry alliance focused on promoting Combined Charging System (CCS) as the global standard for charging EVs of all types.
Sustainable Fleet Research
Penske is supporting original research that can help transportation leaders make informed choices about the future of their fleets, including the annual State of Sustainable Fleets report created by California-based clean technology consulting firm Gladstein, Neandross & Associates.
Download the 2023 report to learn more about the key trends and performance metrics that are accelerating the adoption of sustainable vehicles in the U.S. on-road transportation industry.
Support for Today's Fleet Leaders
Penske is helping commercial fleets take advantage of the cost savings and environmental benefits that BEVs offer.
We can help you navigate the steps, find the best options, and identify maintenance and safety requirements.