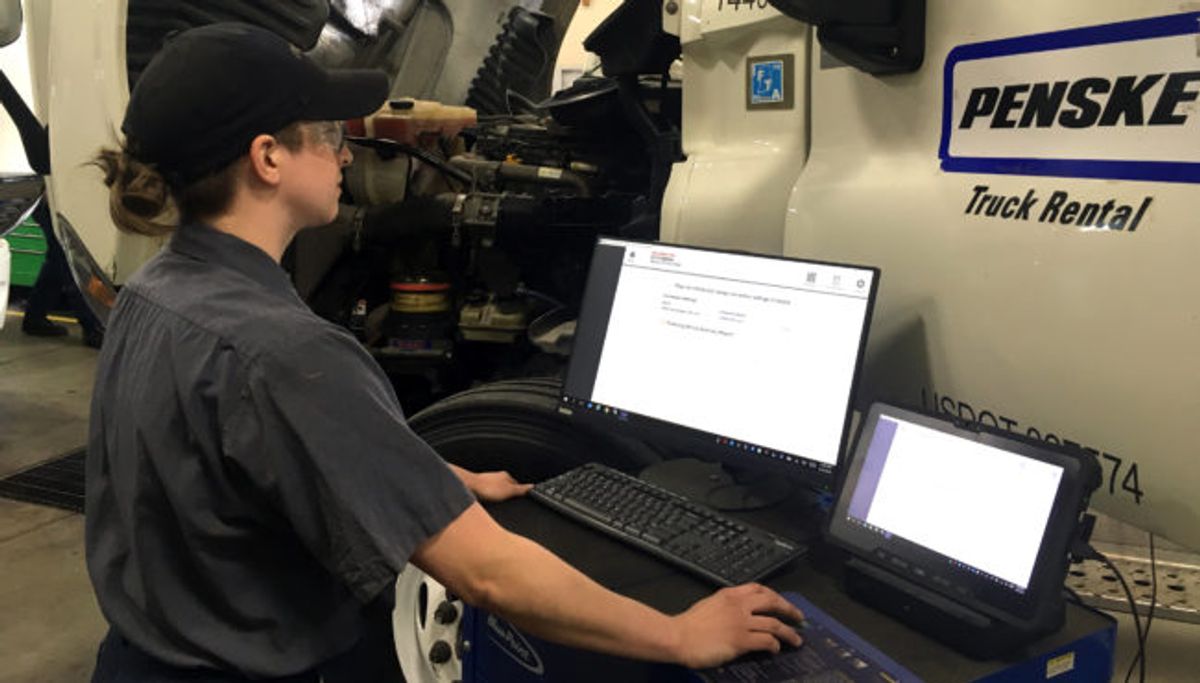 Penske Technician Finds Joy in Her Rewarding Career
In support of the TechForce Foundation's "Women Techs Rock" initiative this month, Penske Truck Leasing is spotlighting some of their own technicians who are thriving in their roles and setting examples for future techs.
---
The TechForce Foundation is an organization with a mission to champion students through their education and into careers as professional technicians.
One Penske technician who is breaking barriers is Lauren Hall from Iowa.
For years, Hall has been doing what she loves: repairing all things mechanical. As a high school student, she spent time working on cars with her brother, identifying engine and driveline issues and learning basic car repair.
During a career day while in high school, Hall listened to Universal Technical Institute's (UTI) presentation. They spoke about some of the opportunities and programs that existed for students interested in pursuing a technical career – immediately sparking her interest.

After graduating from high school, she enrolled and completed her degree in UTI's Automotive, Diesel and Industrial program in 2012.
"Working on diesel engines is both physically and mentally challenging," Hall said. "That is what makes it rewarding. With the advancements in modern chassis, and the different systems that run them, problem solving is a daily process and something I enjoy. There is a lot of personal satisfaction I receive after diagnosing and correcting those faults."
Since joining Penske in 2015, Hall says she's happy and couldn't picture herself working any place else.
"The Penske work environment is different in that it enabled me to use all of the skills I learned at UTI," she said. "Previous employers wanted to restrict the type of work that I did.
"After I interviewed with Penske, I was presented with an offer the very next day. Penske has fulfilled their vocational promises to me."
After four years with Penske, Hall has been challenged with roles of higher responsibility with outstanding results. It's that career growth and demonstrated potential that has her leaving work every day with a smile on her face. So where does she see herself down the road?
"Short term, I see myself continuing to learn and develop my technical skills, as well as expanding my knowledge base," she said. "Eventually, I'd like to become a manager and have the opportunity of managing a Penske location.
"Penske offers amazing continuing education for all associates, including managers and maintenance supervisors. Their management teams are respectful and supportive; they ensure you understand they want you to succeed."
Move Your Career Forward
Penske is always looking for qualified technicians to join the team. Learn more about career opportunities at Penske.
Stay tuned for another technician spotlight coming later this month.
By Chris Abruzzo