EPA and DOT Finalize Greenhouse Gas and Fuel Efficiency Standards for Heavy-Duty Trucks
The U.S. Environmental Protection Agency (EPA) and the U.S. Department of Transportation's (DOT) National Highway Traffic Safety Administration (NHTSA) have finalized standards for medium and heavy-duty vehicles. The agencies said the standards will improve fuel efficiency and cut carbon pollution as well as bolster energy security and spur manufacturing innovation.
The standards cover model years 2021-2027, and apply to semi-trucks, large pickup trucks and vans, and all types and sizes of buses and work trucks. When the standards are fully phased in, tractors in a tractor-trailer will achieve up to 25% lower CO2 emissions and fuel consumption than an equivalent tractor in 2018.
"This next phase of standards for medium and heavy-duty vehicles will significantly reduce greenhouse gas emissions while driving innovation, and will ensure that the United States continues to lead the world in developing fuel-efficient technologies through the next decade and beyond," said former EPA administrator Gina McCarthy.
The standards are Phase 2 of the agencies' ruling on greenhouse gas emissions from medium and heavy-duty trucks and build on the fuel efficiency and GHG emissions standards already in place for model years 2014-2018.

The agencies said the standards will encourage the wider application of currently available technologies and the development of new and advanced cost-effective technologies through model year 2027. Buyers of new long-haul trucks in 2027 would recoup the investment in fuel-efficient technology in less than two years through fuel savings, the agencies said.
The final standards are expected to lower CO2 emissions by approximately 1.1 billion metric tons, save vehicle owners fuel costs of about $170 billion, and reduce oil consumption by up to two billion barrels over the lifetime of the vehicles sold under the program.
Former DOT Secretary Anthony Foxx said the standard gives manufacturers flexibility to use a range of "innovations and technology pathways."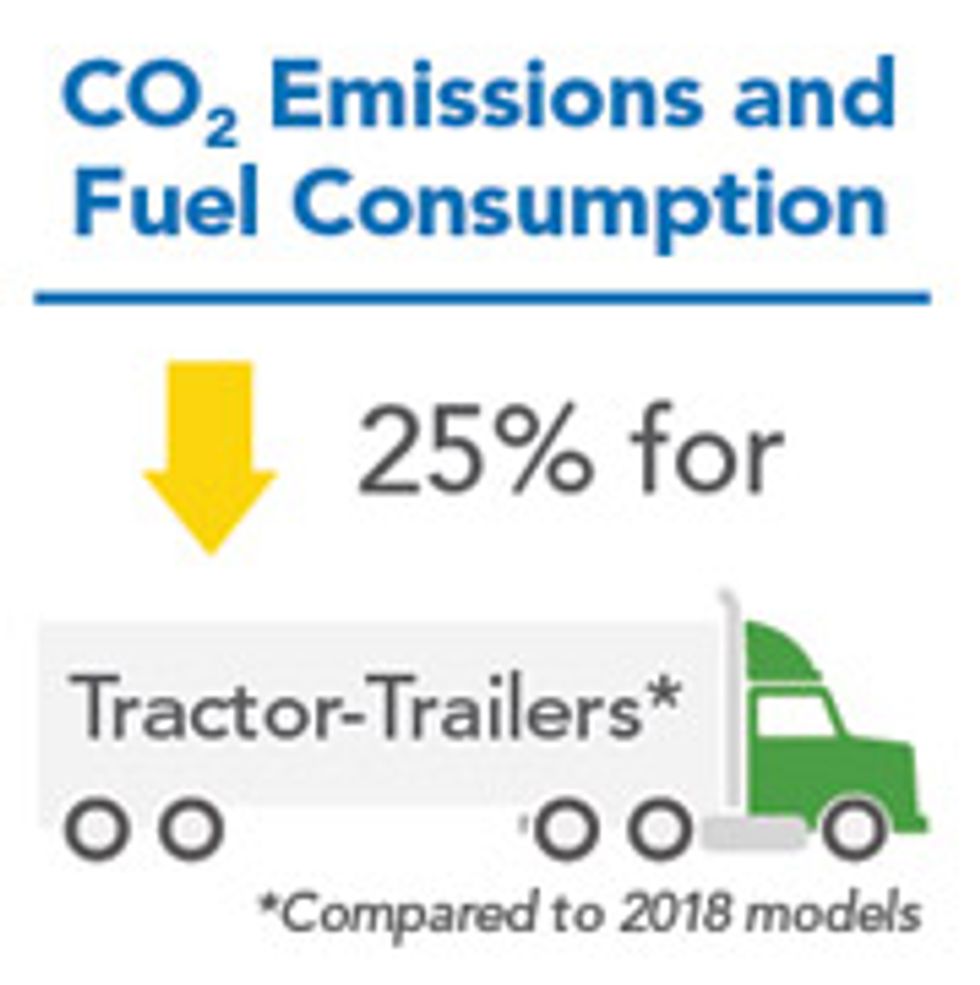 The agencies are also finalizing fuel efficiency and GHG standards for trailers for the first time. The EPA trailer standards, which exclude certain categories such as mobile homes, will begin to take effect in model year 2018 for certain trailers, while NHTSA's standards will take effect as of 2021, with credits available for voluntary participation before then.
DOT said cost-effective technologies for trailers, including aerodynamic devices, lightweight construction and self-inflating tires, can significantly reduce total fuel consumption by tractor-trailers, while paying back the owners in less than two years due to fuel savings.
September 2016 / Updated May 2018