Embrace FSMA Compliance and Protect Your Private Fleet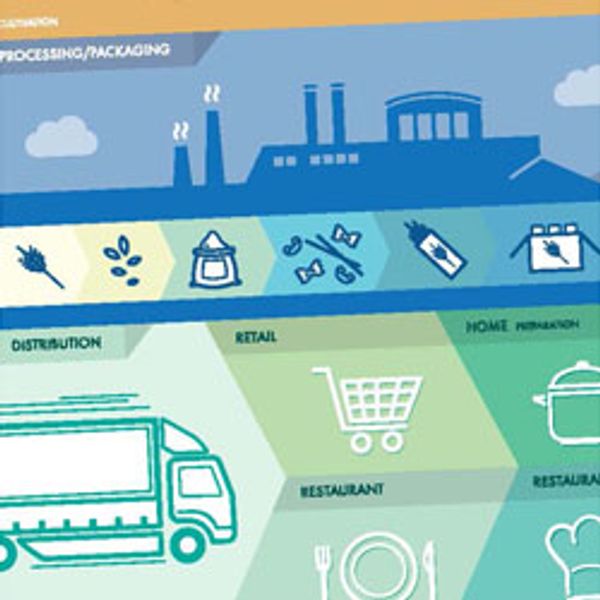 Understanding FSMA compliance is essential if you operate a private fleet in the food transportation industry.
If you operate a private fleet in the food transportation industry, it's time to get more familiar with the Food Safety Modernization Act (FSMA). Implemented by the U.S. Food and Drug Administration (FDA), the FSMA aims to improve safety and prevent spoilage.
Your amount of annual receipts determines how soon you will need to be compliant:
More than $27.5 million in annual receipts must comply by April 2017.
Less than $27.5 million in annual receipts must comply by April 2018.
Less than $500,000 in average annual revenue is exempt.
Benefits of Compliance
Complying with the FSMA protects your private fleet's brand, reduces reputational risk and limits liability. Private fleets must use equipment that meets the FDA's standards and show that food products are handled correctly during transit.
Failure to comply can have huge financial costs. If anyone in the supply chain becomes aware of possible temperature control failure or other conditions that may render the food unsafe during transportation, the food cannot be sold or distributed. The costs can add up quickly and in addition, failure to comply with the FSMA is prohibited, subject to injunction and criminal prosecution.
Understand the Rule
While broad, the FSMA includes specific elements devoted strictly to transportation. Under the Sanitary Transportation of Human and Animal Food rule within FSMA, shippers and carriers involved in transporting human and animal food must follow recognized best practices, such as protecting food during transportation, properly refrigerating it and cleaning vehicles between loads. The rule applies to:
Foods transported in bulk (such as juice)
Packaged foods not fully enclosed by a container (such as fresh produce)
Foods that require temperature control for safety
FSMA Includes these Requirements
Vehicles and Transportation Equipment: The design of vehicles and equipment used in transportation operations and the materials used in their manufacture and their workmanship must be "suitable." Equipment must be "adequately cleanable" to allow the sanitary transport of food. In addition, the rule specifies "vehicles and transportation equipment must be stored in a manner that prevents harborage of pests or becoming contaminated in any other manner that could result in food becoming adulterated."
Transportation Operations: FSMA defines this as "all activities associated with food transportation that may affect the sanitary condition of food," subject to certain exceptions. Transportation operations must be conducted "under such conditions and controls necessary" to prevent the food from becoming filthy, putrid, decomposed, or otherwise unfit for food or rendered injurious to health.
Temperature Controls: For food requiring specific temperatures, vehicles and transportation equipment must be equipped, as necessary, to provide adequate temperature control. The FSMA requires shippers and carriers to agree to procedures for monitoring temperatures within the trailer or truck body, when applicable, and private fleets must provide temperature-related documentation.
Written Procedures: Under the rule, carriers must develop and implement written procedures subject to recordkeeping that describe practices for cleaning, sanitizing, and inspecting vehicles and transportation equipment used to transport food. In addition, carriers and shippers must maintain written procedures and records related to equipment cleaning, prior cargoes and temperature control for 12 months.
Information Exchange: The act establishes procedures for exchange of information about prior cargoes, cleaning of transportation equipment, and temperature control between the shipper, carrier and receiver, as appropriate. For example, a carrier transporting bulk nondairy food must ensure vehicles that have previously hauled milk will not introduce allergens into nondairy food.
Training: Under the final rule, private fleets must provide training about potential food safety problems, basic sanitary transportation practices and the responsibilities of the carrier.
Additional Specific Requirements: The FSMA further dictates a number of specific requirements, ranging from pallets to hand washing.
Spec the Right Equipment
Both refrigerated trucks and trailers must be FSMA compliant. Newer, late-model equipment can make this easier. For example, the right trailers, such as those with multi-temp trailer compartments, may help maintain product temperatures.
Staying FSMA compliant also means embracing a proactive preventive maintenance process (PM). It minimizes the risk of breakdowns, which could leave loads sitting and compromise load safety. PM also helps private fleets detect risks that must be addressed before they become a larger problem.
Although the rule provides some flexibility regarding how to track temperatures, private fleets still need to show proper product handling during transit. This can be accomplished using reefer units on trailers that record temperatures, which can be checked manually or by installing on-board, real-time, GPS-enabled temperature tracking devices.
Embrace Track-And-Trace Technology
As part of the FSMA, those within the supply chain must be able to track and trace products in the event of a recall. Utilizing transportation management systems and GPS monitoring can help private fleets pinpoint the exact location of a load if a shipper needs to halt the delivery. Radio-frequency identification (RFID) technology on pallets also can ensure quick and easy traceability in the event of a food safety crisis.
Educate Employees
If the carrier is responsible for the sanitary conditions during transport operations, then carrier personnel must receive adequate and documented training on sanitary transportation practices. They also need training on awareness of potential food safety problems that may occur during food transportation.
Plan Ahead
No matter the size or compliance date of your private fleet, now is the time to know the FSMA and move toward compliance. Build a game plan. Proactively spec the right equipment. Prepare your employees. Document your procedures. These steps will help you ensure compliance, mitigate your risk and protect your brand reputation that you've worked so hard to build in your marketplace.
February 2018 / Updated May 2018