Maintenance, Technology Help Improve Safety in Harsh Weather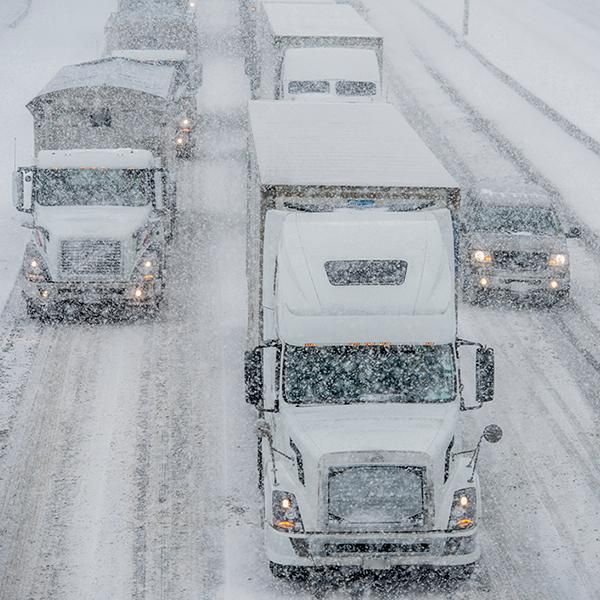 Winter weather and the harsh driving conditions that come with it can be hard on trucks and difficult for drivers, but proper maintenance and the latest safety technology can help keep equipment and those on the road safe.
---
Inspections and Maintenance
Proper pre- and post-trip inspections along with regular preventive maintenance can keep equipment running. There are certain components that often require extra care in the winter. Penske takes several steps to ensure uptime as temperatures drop, including treating fuel with winter additives to maintain vehicles' performance and having technicians check specific components.
Penske technicians check engine block heaters and fuel-water separators and their heating elements along with alternators, batteries, air dryers, starting systems, and auxiliary power units or diesel fired heaters. Wiper blades should be in proper condition, and windshield washer solvent with de-icer needs to be replenished regularly to ensure drivers can keep the windshield clear.
Technicians also test the battery and clean the connections as batteries can fail under the high starting load they face in cold weather. To ensure the operation of the cab heater and defroster, the engine cooling system and belts and hoses are all examined.
Diesel exhaust fluid systems need to be examined to ensure the heating system is working. Otherwise, drivers could face potential derate issues in the cold weather due to poor NOx conversion.
Tire condition is also essential in icy and snowy conditions, and tread thickness should be a minimum of 5/32 inch for winter driving. If tires are below 5/32, drivers can stop by a Penske location. Drivers should also ensure tire chains are in proper condition if the vehicle is equipped with chains, and that they have working flares and triangles.
"Also, if the unit is parked, we recommend that you plug it in to ensure that the vehicle will start," said Chris Hough, vice president of maintenance design and engineering for Penske Truck Leasing.
Fleets and drivers need to pay special attention to their fuel when temperatures drop. Diesel fuel behaves differently than gasoline because it is a middle distillate containing paraffin—a wax—that causes fuel to gel as it cools. If that occurs, it can clog up a diesel fuel line and cause the trucks not to start.
Penske pretreats fuel to prevent diesel fuel gelling and uses three levels of treatment based on the average temperatures of the regions where the fueling sites are located. Some locations receive a marginal or normal winter blend. In extreme winter locations, Penske uses a mixture of fuel additives and kerosene to lower the cold filter plug point further— the lowest temperature at which diesel fuel can pass through a filtration device—to -18 to -20 degrees.
Treatment typically begins on Nov. 1 and goes into March. Penske recommends customers fuel at Penske locations to ensure they are receiving fuel that has been adequately treated.
Safety Technology
Today's trucks come with several on-board safety technologies that can help keep drivers safe, particularly in snow and ice. Matt Camden, senior research associate in the behavioral analysis and applications group of Virginia Tech Transportation Institute's Center for Truck & Bus Safety, said electronic stability control can be helpful in the winter. If the systems detect a vehicle is reaching its critical stability threshold, the technology kicks in and automatically reduces engine torque, applies the engine brake and activates the necessary wheel-end brakes, which reduces the likelihood of a rollover, jackknife or loss of control.
Collision avoidance technology is one of the best tools available to minimize the risk of deer strikes, which increases in the winter. Most collision avoidance systems use a technology called lidar that is similar to radar. The challenge is deer can dart in front of a truck at the last minute. Many Penske customers install deer guards on the front of their units as an added precaution to reduce damage to the grille, radiator and bodywork.
Lane departure warnings can help assist drivers if they are at risk of moving out of their lane, but their effectiveness may be limited if lane lines are covered, Camden said.
Driver monitoring systems can be beneficial in all weather conditions, Camden said. "With a monitoring system, you can see how a driver is performing, if they are driving aggressively for the speed or roadway conditions".
The systems can also help identify drowsy driving. "In the winter daylight hours are shorter," Camden said. "I've seen preliminary data and second-hand information about drivers being more likely to be fatigued in the winter".
November 2021