Four Ways Penske Increases Your Maintenance Capacity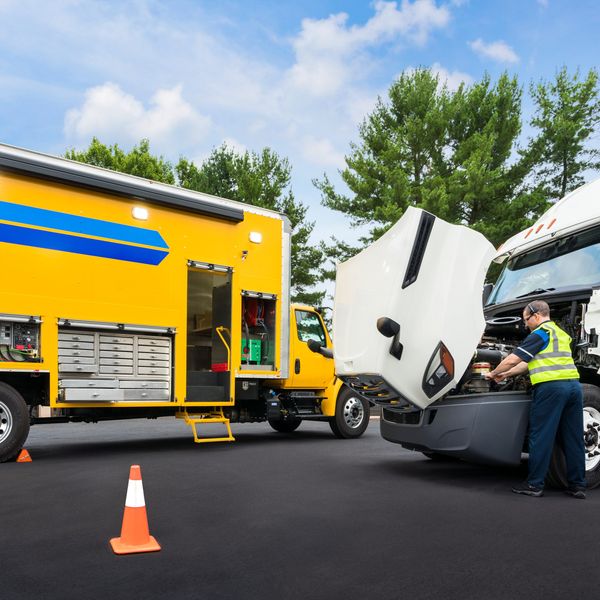 A strong maintenance program can reduce downtime, increase safety and improve fuel economy, but technician shortages, equipment demands and time constraints can make it hard to ensure equipment is getting the care it needs. Penske has several maintenance solutions – contract maintenance, on-site maintenance, mobile maintenance and managed maintenance – that can help fleets increase their maintenance capacity, so every piece of equipment is seen on schedule and repaired quickly.
---
Contract Maintenance With Extended Maintenance Hours
Maintaining commercial vehicles is a complex process, and Penske has a nationwide network of shops, trained technicians and top-of-the-line equipment to perform contract maintenance. Skilled techs have experience servicing all types of equipment, and they keep extended hours, working evenings and weekends, which helps minimize downtime for fleets.
Inside the shop, Penske relies on technology and data to deliver customized maintenance programs that drive uptime. Penske is analyzing vast amounts of data, including remote diagnostics, to understand when specific components may fail on each vehicle type. Detailed information allows shops to be proactive and schedule a repair before there's a problem. Plus, Penske's Dynamic preventive maintenance (PM) analyzes specifications and trends unique to each fleet, delivering the right PM at the right time. Technicians completing a Dynamic PM use speech recognition technology to guide and record specific inspection steps, which ensures techs can focus on accuracy, safety and quality.
On-Site Maintenance
For fleets, on-site maintenance can provide convenience, but operating a vehicle maintenance facility can be complex. Truck technology and compliance regulations change rapidly, qualified maintenance technicians are hard to find and keep, and diagnostics equipment and inventory are expensive and time-consuming to manage. Penske offers on-site maintenance, so fleets can reap the benefits of a cost-efficient, in-house program without the labor and operational challenges associated with running a shop.
As part of its on-site maintenance program, Penske oversees all recruiting, hiring, training and retention needs, ensures all maintenance equipment and technology are up to date, brings all transportation equipment up to Penske's high standards, eliminates deferred maintenance, and puts each vehicle on a regular PM schedule.
Mobile Maintenance
Penske's Mobile Maintenance solution is a shop on wheels, giving fleets a carefully planned yet highly adaptable solution that brings the latest innovations and premium services right to them, helping reduce unnecessary costs while saving time. Mobile maintenance allows fleets to plan maintenance services at the best time for them, such as when vehicles are not in use or parked for the night, increasing fleet uptime and maximizing drivers' hours. Each mobile maintenance vehicle is outfitted with custom-designed tools and operated by a highly skilled and trained technician. Technicians provide PM services, implement diagnostic solutions and perform repairs on-site at the fleet's location with the same quality received at any Penske shop.
Managed Maintenance
Penske's managed maintenance team can manage your assets and provide oversight of PM and repairs for vehicles not seen in the Penske-owned network. A staff of ASE-certified and Penske and OEM-trained repair specialists works with customers to coordinate maintenance needs through a nationwide network of service providers. Repair specialists deliver the best value by knowing how long repairs should take, their cost, and the best parts to use. Plus, Penske negotiates a full rate card that addresses regular, holiday, and weekend hours for each primary service provider and strives to eliminate additional fees when possible. Managed maintenance is designed to make using multiple vendors, paying invoices, reviewing estimates and analyzing repair costs as easy as possible for the fleet.
24/7 Roadside Assistance
Included with all of our maintenance solutions, Penske provides customers with high-priority access to its 24/7 Roadside Assistance and rental fleet in the unlikely case of a breakdown. Staffed by experienced, in-house Penske personnel with a detailed knowledge of trucks and a strong understanding of the specific problems drivers may be experiencing, the 24/7 Roadside Assistance call center is available to drivers day or night.
To learn more about how Penske can help you increase your maintenance capacity, contact us today.
April 2023