FAQs: Managing Your Fuel Spend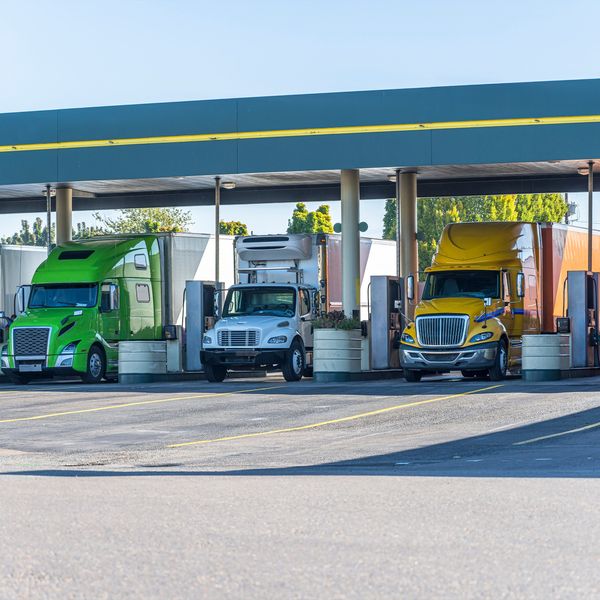 Fuel is one of the most significant ongoing expenses for any fleet, and even small savings can add up. Fleets can cut costs in several ways, and we're here to answer your frequently asked questions about increasing fuel economy and managing your fuel spend.
---
How does maintenance affect my fuel economy?
Today's equipment operates more efficiently, but it isn't very forgiving, and maintenance has a direct impact on fuel economy. For example:
Exhaust leaks affect waste heat recovery and passive and active regenerations.
If there are air leaks, the air compressor must run all of the time.
Worn brake parts or brakes out of adjustment can cause brakes to drag.
Under or over inflated tires can reduce fuel efficiency and create irregular wear.
All of these items can drag down miles per gallon. A robust preventive maintenance program can ensure systems work as intended, maximizing fuel efficiency.
What role do tires and alignment play?
Proper tire pressure and alignment are two of the top maintenance items affecting fuel economy. For example, for every 10 PSI of under-inflation of tires, could create up to a 10% reduction in fuel economy. Penske checks tire pressures every time a unit is in the service bay for any repair. Techs also inspect tires for irregular wear, which can be caused by misalignment that impacts fuel economy. In addition, improper wheel alignment can reduce fuel efficiency by increasing rolling resistance.
How can I ensure I'm spec'ing the right vehicle?
Choosing the right specifications for a vehicle's application is one of the biggest opportunities to improve fuel economy. Penske Truck Leasing can work with fleets to examine historical data, routes, capacity, drivers and freight, then work with original equipment manufacturers to build a truck for optimal performance and fuel efficiency. Penske can also draw on data to give fleets insight into the average trip speed, how much time a driver spends in top gear, the gear ratio and engine horsepower to determine if fleets should change their specs on existing equipment.
Should I be concerned about idling?
Excessive idling decreases fuel economy, wastes money and can have a negative impact on the after-treatment system. Most states have regulations that don't allow diesel engines to idle more than five minutes. To reduce idling, fleets can spec diesel APU's or stand-alone auxiliary heaters, which burn less fuel than the engine. Battery-powered APUs are also becoming more and more popular.
Can you help me optimize my route?
Route optimization can reduce fuel costs in two ways. First, by eliminating unnecessary miles and filling backhauls to reduce inefficiencies in a fleet's overall network. Second, Penske can analyze customers' routes to optimize fueling stops. Penske will examine volume, compare it to posted retail prices and Penske prices on or near the route, estimate how much time drivers would be off the route if deviating to obtain savings, and calculate the total net savings.
How important is driver behavior?
Driver behavior presents a significant variable on overall fuel economy. Drivers need to conduct thorough pre- and post-trip inspections to ensure tires are properly inflated and identify other maintenance issues that can decrease miles per gallon. Driver technique is also essential. Rapid acceleration and deacceleration and speeding can harm fuel economy.
How do I get the best price on fuel?
Penske has more than 350 secure, simple and competitive fueling locations throughout the U.S. and Canada and looks at thousands of data points every day with local market conditions, input, output and algorithms to create the maximum value for retail and discount prices.
Plus, Penske's full-service fueling experience provides added value to fleets and drivers, including:
Vehicle and safety inspections by Penske Customer Service Representatives (CSR) each time vehicles are fueled
CSRs also top off oil, windshield washer fluid and antifreeze
CSRs focus on minimizing driver wait times
Increased visibility via Fleet Insight and Penske Fleet™ mobile app
Information on transaction information, daily fuel prices and fuel tax
For customers who are on the road and can't fuel at a Penske location, Penske Truck Leasing offers a proprietary fuel card that can be used at more than 100,000 fuel merchant locations across the country. Pricing on fuel purchased with the card ranges from the cash price listed at the pump to a tiered discount based on a fleet's size.
Penske Truck Leasing also offers bulk deliveries in which it takes fuel to customers. For customers with bulk tanks, Penske Truck Leasing can monitor tank levels, negotiate a competitive price for the fuel and dispatch deliveries when fuel is needed.