Maximizing the Benefits of Live Diagnostic Reporting Systems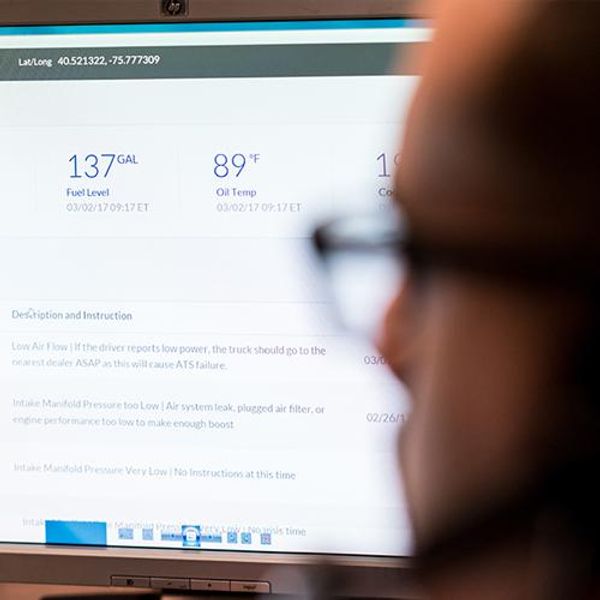 Live diagnostic reporting systems have a number of benefits for carriers, including minimizing delays associated with breakdowns and reducing the risk of Compliance, Safety, Accountability (CSA) violations, but unless the systems are managed properly, carriers may be overwhelmed with fault codes that leave them with more questions than answers.
---
"You have to be wary of paralysis by analysis," said Mike Hasinec, former vice president of maintenance support at Penske Truck Leasing. "There are so many fault codes that you need to work with an original equipment manufacturer (OEM) to determine which codes are important."
Penske Truck Leasing has taken more than 1,000 fault codes and broken them up into red, yellow and green to help technicians, carriers and drivers understand which codes need immediate attention. "The key piece is to be able to decipher what they mean," Hasinec said. "If you have identified what is important, you can manage a phone call from the driver to let them know to not worry about it, write the code up that night or pull over at the first safe opportunity."
Red fault codes, for example, mean a vehicle needs attention as soon as possible. "The amount of critical codes with most of the OEMs is relatively small," Hasinec said. Live diagnostic reporting systems are standard on most heavy-duty vehicles today.
Another benefit to all of this data being broadcast by the vehicle is the ability to identify patterns that are telling you something is going to fail soon. By using repair history associated with fault codes and applying data science you will learn of the need for certain repairs. This allows you to be proactive and make the repairs prior to the component or system having a failure.
Hasinec said one thing carriers need to consider is that these systems are collecting information on the vehicle. "That information could be used against you for a warranty issue," he said.
Most of Penske's lease and all of their rental tractor and medium-duty fleets have diagnostic — reporting systems either those from the manufacturer or systems from a third-party provider. Although the systems are useful, Hasinec said they do not take the place of a thorough pre- and post-trip inspection conducted by a driver.
Not only are the inspections required by law, but they can also help prevent accidents as well as breakdowns out on the road, which ultimately saves drivers time and ensures on-time deliveries.
Ensuring Safety with Pre- and Post-Trip Inspections
Even with advanced vehicle technology, proper pre- and post-trip inspections are a crucial component of vehicle safety. The inspections can help drivers avoid violations during roadside inspections, prevent accidents and ensure the vehicle is safe while also preventing breakdowns out on the road, saving drivers time and ensuring on-time deliveries.
During every pre-trip inspection, a driver should look for leaks, damage, operable lights, properly secured cargo, sagging equipment and anything that looks out of place. Drivers should also review the previous Driver Vehicle Inspection Report.
Thorough pre- and post-trip inspections are required by law. Under Department of Transportation regulations, no commercial motor vehicle shall be driven unless the driver is satisfied that the required parts and accessories are in good working order, nor shall any driver fail to use or make use of such parts and accessories when and as needed. In addition, every motor carrier must require its drivers to provide a written report at the completion of each day's work on each vehicle operated.
The post-trip inspection gives time for carriers to make necessary repairs and it also provides documentation the next driver can review during his or her pre-trip inspection. If the previous driver noted defects or deficiencies, the new driver must sign the inspection report to acknowledge that he or she has reviewed it and that there is a certification that the required repairs have been performed. Motor carriers must maintain the original of each vehicle inspection report and the certification of repairs for three months.
For drivers, establishing a routine can help them correctly note items they find in inspections. A routine can also ensure inspection reports are handled properly.
April 2021