Three Ways Leasing Addresses Top Industry Concerns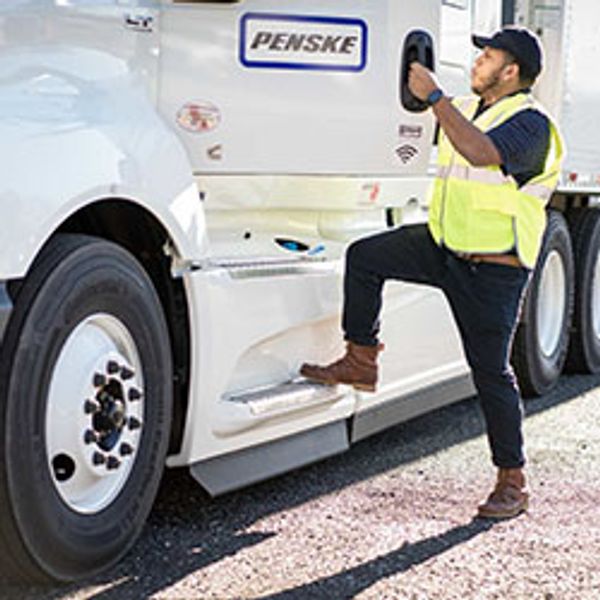 The strengthening economy and robust freight demand have made 2018 a strong year for the trucking industry, but challenges remain, according to the American Transportation Research Institute (ATRI). ATRI has released its list of the industry's top driver concerns, many of which could be addressed by a full-service lease.
---
Full-Service Maintenance: The Federal Motor Carrier Safety Administration's Compliance, Safety, Accountability (CSA) program was the sixth-ranked issue facing the trucking industry in 2018. A strong, full-service maintenance program can reduce the risk of a roadside inspection violation, which contributes to a fleet's overall CSA score.
Items such as chafing of wires and hoses, air leaks, and tire and brake violations can all result in significant points, and the most severe violations can result in out-of-service violations that take a truck out of operation. Properly maintained vehicles not only reduce the risk of violations but also improve safety and prevent breakdowns.
Safety Technology: Distracted driving and its impact on highway safety remained a top priority for the trucking industry in 2018, as the growing use of smartphones has raised the profile of distracted driving as a significant public safety issue, ATRI said. According to data from the National Highway Traffic Safety Administration, 3,450 people were killed in motor vehicle crashes involving distracted drivers in 2016, while ATRI reported that distracted driving was a factor in 14% of all police-reported crashes.
While the overall goal is to reduce distracted driving, onboard safety technology can minimize the risks associated with it. Penske makes some safety technology standard on its equipment.
Collision mitigation systems use a camera positioned on the front of the vehicle, as well as radar. The two systems work together and provide more active brake assistance and warnings, such as lane departure and blind spot detection. They also work to detect potential crash situations, such as when the distance between the truck and a vehicle gets too close. The systems alert drivers and take action automatically if drivers don't react.
A lane departure warning system can warn the driver when the vehicle begins to move out of its lane without the use of a turn signal. Automatic braking can spontaneously activate the vehicle's brake system when sensors monitor the presence of vehicles ahead and around the vehicle or detect any situation where there's an impending collision.
As part of its analysis of the most critical industry issues, ATRI also tracks the emerging topics that generate significant industry interest but fall just outside of the industry's top 10 concerns. This year, highway safety and crash reduction ranked as one of the industry's emerging issues for the first time since this study's inception, as the trucking industry continues to emphasize its safety record. Fatal crash rates for large trucks have been on a downward trend since 1975, declining 71% over the last four decades. However, the rate has started to climb again since reaching an all-time low in 2009.
In the report, ATRI also noted that automated truck technology ranked as one of the industry's emerging issues among all respondents again in 2018 after cracking the list for the first time in 2017. Driver-assistive technologies have seen increased deployment in recent years, while high-profile demonstrations of emerging automated technologies continue to generate significant attention among industry stakeholders, the report said.
Driver Shortage and Retention Issues: With a strong economy bolstering demand for capacity as well as professional drivers, the industry remains worried about finding drivers. The driver shortage, a perennial top industry issue, ranked as the industry's top concern for the second consecutive year in 2018. Plus, driver retention has continued to move up the list of critical industry issues. ATRI reported that driver turnover increased through the first half of 2018, particularly at large truckload carriers, and the industry is on pace to have the highest annual turnover rate since 2013.
The use of well-maintained, late-model equipment can play a role in both attracting and retaining drivers. The latest equipment often has increased comfort and safety features, which drivers value.
December 2018