Eight Factors Adding to the ROI on Fleet Leasing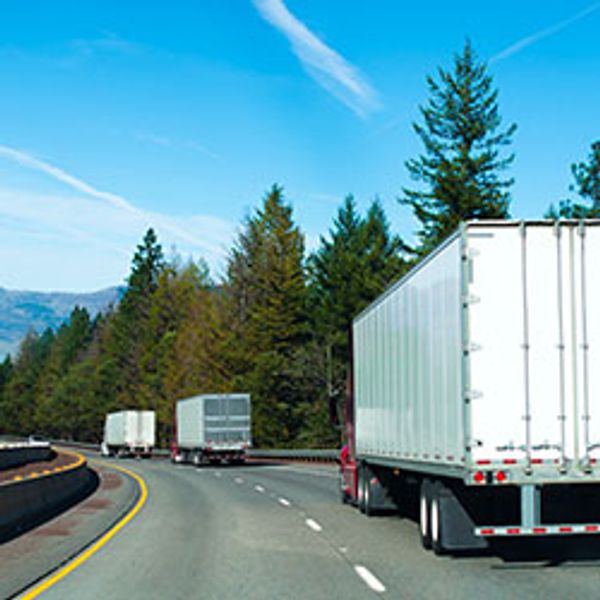 A Penske truck lease can provide value in several ways, ranging from fixed, predictable monthly costs to reduced admin costs for the fleet. To help customers calculate the cost-benefit analysis on a lease, Stephen Beels, executive accounts business development manager at Penske Truck Leasing, shared eight areas that can create value for private fleets entering into a lease.
Predictable Costs
Leasing creates predictable fleet costs, particularly surrounding maintenance issues that can create unknowns for private fleets. Leasing also allows Penske customers to pay zero or little cash upfront. When financing the purchase of a truck, buyers are typically required to place a down payment of anywhere between 10 and 20% of the purchase price of the vehicle. "With the present value of money and inflation, that is a big factor contributing to the ROI," Beels said.
Improved Uptime
Penske's comprehensive maintenance program for full-service leases also improves customer uptime. Thorough preventive maintenance minimizes the risk of over-the-road breakdowns. And, in the event a breakdown does occur, Penske offers 24/7 roadside assistance and can provide a replacement vehicle if needed. The rapid response saves drivers time and keeps freight moving. It also eliminates unknown expenses associated with towing, over-the-road repairs and lodging for drivers, not to mention customer service issues that would arise from missing a delivery.
DOT Compliance
Penske's record keeping surrounding the servicing and maintenance of vehicles as well as vehicle specifications can aid fleets in the event of a Department of Transportation (DOT) audit. The information is easily accessible to customers, which saves time. What's more, the average DOT fine exceeds $8,000 and an out-of-service cost can average $375 plus a fine.
Reduced Administrative Work
Penske takes care of licensing and administrative work behind the scenes, which eliminates the need for its customers to send someone to the DMV. Penske also consolidates billing and tracks and pays taxes with a pass through that can be included in a full-service lease.
Proper Vehicle Specs
Penske's in-house team of experts coupled with its OEM relationships and purchasing power enable Penske to work with customers to spec the right unit for the customer's application at the best price. Spec'ing the right vehicle improves fuel economy and reduces downtime and maintenance expenses. Plus, spec'ing the wrong truck or not a spec'ing a truck can cause driver dissatisfaction.
Increased Safety
Spec'ing trucks with additional safety technology can reduce the risk of an accident and lessen the severity of a crash if one occurs. "It can be hard to pinpoint the ROI for putting collision avoidance on a truck, but you have to think about what an accident and downtime cost you," Beels said, adding that preventing or limiting accidents reduces damage expenses and the cost of driver downtime. What's more, private fleets may be able to obtain discounts on insurance by implementing safety technologies.
Improved Miles Per Gallon
Penske offers its customers a miles-per-gallon analysis to help them calculate their ROI. "We can allow them to demo a rental truck or we can work with the OEM and share the exact route the customer runs and get a fuel comparison," Beels explained.
Beels said a lot of companies don't have a firm grasp on what they're currently spending on maintenance. "There are so many maintenance-related things on a truck and it adds up fast and people don't always have thorough records," he said.
Better Driver Retention
The shortage of professional drivers is well known in the trucking industry, and private fleets are looking for ways to attract and retain drivers. Drivers are more likely to join or stay at a company that values safety and uptime.
Penske's experts can work with potential customers on a cost-benefit analysis to identify the true ROI on a lease based on the fleet's specific needs.