Penske's Fuel Program Helps Manage Rising Fuel Costs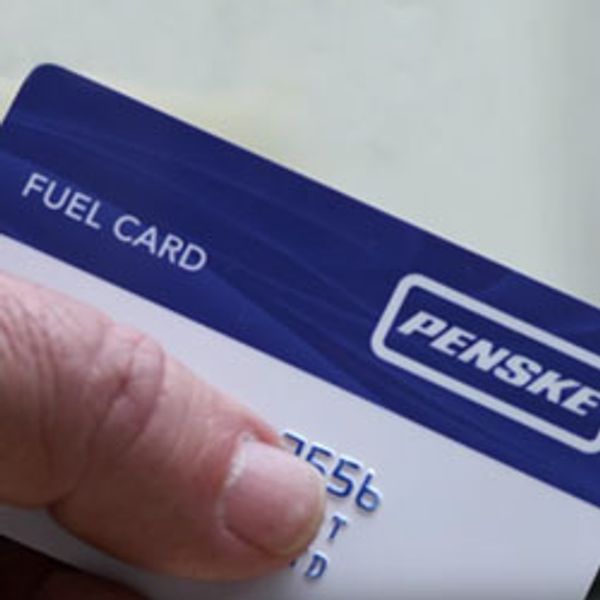 Penske's fuel program is available in 42 states and can help customers manage rising fuel costs while also ensuring the quality of the fuel. Here are 12 ways Penske's fuel program is benefitting fleets:
---
Competitive Prices
Penske's fuel is competitively priced with retailers. With 375 fueling locations across the country, Penske is one of the top five largest fueling networks in America. "Most people don't know that 99% of the time, Penske's fuel is less expensive than the retail option," said Ed Touma, director of energy and fuel supply for Penske Truck Leasing.
Penske has a strategic fuel arm with employees that monitor prices and make certain the fuel prices are lower than the competition. Penske has also developed an iPhone app where customers can see the price of Penske's fuel daily and compare it with the retail price they are seeing on the street. "Soon we'll be putting competitors' prices right on the app," Touma said.
Higher Miles Per Gallon
Penske buys 100% hydrocarbon fuel where available, which offers higher BTUs and horsepower when compared to biodiesel blends. Some states, including Pennsylvania, Oregon and Minnesota, require biodiesel blends, but Penske utilizes the minimum required amount, ensuring higher miles per gallon for its customers. "Hydrocarbon fuel is number one for fuel mileage," Touma said. "Many of the retailers have 30,000 gallon biodiesel tanks onsite and will blend up to 20% biodiesel into the fuel and drivers don't know it until they get on-site."
Full Service for Drivers
Penske's customer service representatives fuel the trucks for drivers, freeing up drivers to complete paperwork or wait from the comfort of their cab. A little extra convenience for drivers can be particularly useful.
Improved Maintenance
While fueling the vehicles, Penske's employees walk around the tractor and trailer and check for maintenance issues, such as mud flaps, headlights or taillights that need repair. "When they go back out on the road, they won't be getting pulled over and getting tickets for DOT violations," Touma said. "We have statistics showing that for every 10 trucks that come across the fuel island, one truck would go in and get a repair."
Faster Service
Traditionally, Penske's full-service fueling experience is faster than self-service at a travel center or truck stop, Touma said. "Typically there is no line, whereas at a travel center there could be a line or a problem with getting approval to dispense the fuel," he explained, adding that fueling time at a Penske location averages 10-15 minutes versus the 25 a driver would spend at a travel center. "We're attentive. The driver doesn't have to get out or get an authorization code to fuel. He also doesn't have the temptation of going in and buying something unnecessary at a travel center."
Convenience
Although drivers don't have to leave the vehicle, Penske fueling locations do offer restrooms, vending machines and small cafeterias. The locations also have Diesel Exhaust Fluid (DEF) on all the islands and a full array of other products a truck may need.
Network Evaluation
Each quarter, Penske can create a value-add report for its customers, evaluating the fuel purchased at Penske locations as well as fuel purchased at travel centers. "We show them what they paid for fuel and identify missed opportunities if that fuel was purchased near a Penske location," Touma said.
Proper Additives
In the winter, it is important for fleets to have equipment that will run in cold temperatures. Penske closely monitors fuel additives beginning in the fall. "Beginning on November 1, we put a winter improver in cold states and that runs through the end of March," Touma said. "In the winter it is important to have fuel in the tank that runs in cold temps."
In extreme cold, such as that experienced in Michigan, Wisconsin and upstate New York, Penske blends in kerosene to bring down the cold-filter plug-point temperature.
Fuel Testing
Penske invests in fuel testing programs. Each September, Penske inspects all of the tanks in the network. "We take a bottom sample and send it to a specialized lab. It tells us what the water content is, what the cetane is and if there is bacteria in the fuel," Touma said, adding that if there is an issue, Penske's environmental department will work hand in hand with the fuel department to clean the tank and improve its performance.
In addition, Penske tests nozzle samples throughout the winter, looking at the cold-filter plug-point temperature, cloud point and water content. "We're monitoring it and making sure our fuel is performing the way it should be," Touma said.
Guaranteed Supply
All of Penske's fuel is contracted via major oil companies. "That is so we always have priority in the terminals where we get the fuel," Touma said, adding that secure supply is particularly important during natural disasters, such as a hurricane. "We still have our fuel because we contracted it into that location."
What's more, Penske has extensive emergency contingency plans and can have drivers transport fuel into affected areas during an emergency situation. "In Houston when Hurricane Harvey came through, we had drivers that couldn't get out," Touma said. "We brought in three drivers from Ohio and they brought their trucks down and delivered the products to our Houston locations until the local people could get up and running and get ahead of the disaster."
Penske also provides branch managers, service managers and fleets with detailed information during an emergency situation, so everyone knows how much fuel is available and where. "The communication, reporting and supply security helps them get through the event," Touma said, adding that prices don't spike during a natural disaster because fleets have already pre-negotiated their rates.
Fuel Deliveries
Penske also delivers bulk fuel to customer-owned tanks, using the same quality standards the company has for its own locations. "We can also arrange for a mobile fueling," Touma said.
Centralized Data
In addition to having fuel available, Penske offers two types of fuel cards that customers can use at non-Penske locations, such as travel centers, truck stops and convenience stores. The cards allow Penske's customers to receive one bill for fuel and each fuel bill is broken out by tractor number.
Customers with questions about Penske's fuel program should contact their Penske representative.