Technology Is Increasing Efficiency Within the Warehouse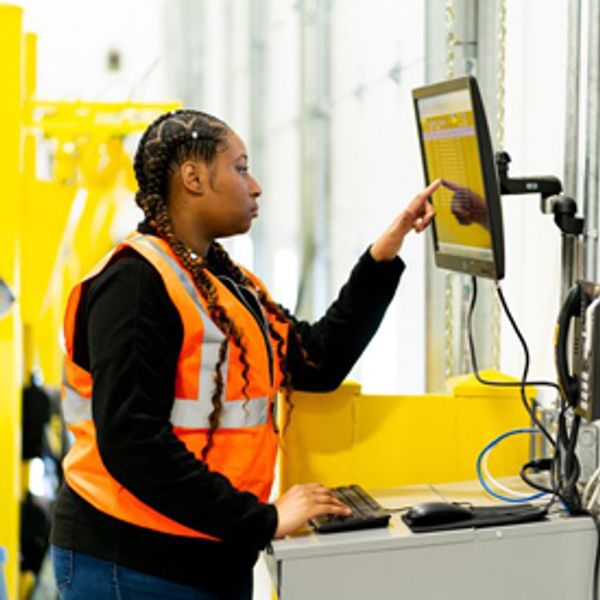 Innovation within the warehouse can increase productivity and boost customer service while also reducing costs and streamlining operations.
---
Control Towers
Dave Bushee, senior vice president of information technology for Penske Logistics, said the concept of control towers, which use software to provide visibility across the supply chain, can provide insight into the inventory of critical items and improve distribution center management. "It connects warehouse and distribution in a very collaborative way. When disruptions happen, you have the right visibility and alerting, and you can communicate with everyone in the network," he said. "It takes critical data from the warehouse management system and critical data from the transportation management system, so you get to see your full supply chain and make educated decisions."
Those decisions could include shifting an inbound truck from one location to another or pulling product from another warehouse. "Today's supply chains are about making sure products are on shelves, when they need to be there. Control towers can sit on top of distribution networks to improve collaboration and minimize supply chain disruptions."
Design
The overall design of a warehouse can remove inefficiencies and maximize performance. When designing a warehouse, Penske analyzes several data sets, including the facility location and size, capacity and equipment. It also looks at cross-dock layout and scheduling, facility simulation modeling, process flow analysis, and labor and material-handling equipment utilization. That information enables Penske to create designs that ensure efficient material handling and economical storage while protecting people's safety and product.
Slotting
Penske also works to understand how a location stocks and uses its inventory, which affects the required handling, racking, and processes within the building. Slotting software works with the warehouse management system (WMS) to provide data-driven insights into the best slotting patterns. "The product that is the most often picked should be in the most efficient slot. As your products change and your demand changes for products, you want to update the layout," Bushee said.
Automation
Due to COVID-19, minimizing contact between associates is essential. Technology can help automate the pickup and delivery process at the warehouse, reducing the amount of interaction needed. In the past, drivers would exit the truck and walk in with paperwork to learn where they needed to take the delivery. More recently, Penske has rolled out new technology that relies on scannable labels and a smartphone, so drivers don't have to leave the truck. "With an automated process and a scannable label, we can facilitate that yard management process," Bushee said, adding that while the goal was to minimize contact, the new process is increasing efficiency.
Tasking
Tasking technology can boost efficiency and optimize warehouse operations by reprioritizing tasks in a work queue in real time. Most warehouse management systems prioritize tasks by proximity or zone. "This sits on top of the WMS, runs in the cloud, and takes key data from the WMS to look at the work queue and reprioritize the work queue. The next task given is the one you need to do the most," Bushee said. "It will drive efficiencies from the pick perspective and the replenishing perspective."
Vision Picking
Smart glasses have continued to evolve and are expected to get even better with the release of 5G. "The glasses see the label and will greenlight the area we need to pick in. Everything else will be red," Bushee said, adding that the technology minimizes the number of mis-picks.
While the technology already works over standard Wi-Fi, Bushee said he expects 5G to revolutionize it. "5G reduces the amount of latency, so it is much more real-time," he said. "It also can run faster, which is important because there is a large amount of data that has to travel back and forth."
Labor Scheduling
Labor is a critical component of efficient warehouse operation, and technology can play a role in maximizing staff. Penske uses scheduling technology that generates schedules based on associate input. Associates can also communicate with each other if they need to trade shifts. "It provides an easier and more efficient way to schedule our associates. We think it will minimize our attendance issues and give our associates better work/home life balance," Bushee said. "In today's world, the demands of life often require you to work different schedules."
Penske can work with its customers to create an overall labor-management program. As part of labor management, managers can establish labor standards, standardize and streamline operations, and eliminate activities that are deemed by employees to be non-value-added.
August 2020