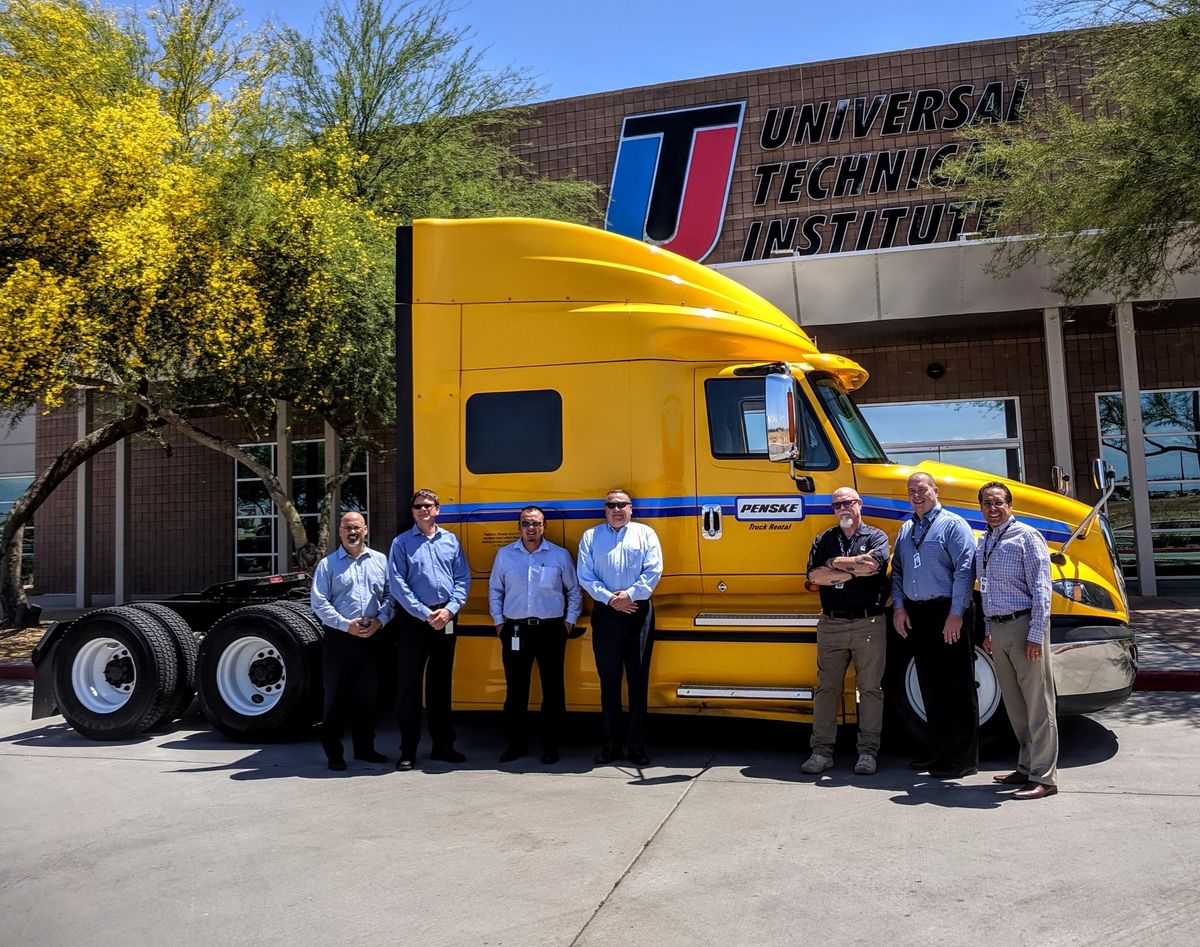 Nurturing the Next Generation of Technicians
Students at Universal Technical Institute's (UTI) Avondale, Arizona, campus have a welcomed addition to the Diesel Tech program: a state-of-the-art Penske sleeper.
---
The truck will give diesel technician students a real-world, hands-on experience working on a truck that had at one time been among Penske's more than 323,000-truck fleet.
School officials say the unit has caused quite a buzz among students in the diesel program since the truck's arrival to the campus located outside Phoenix. Avondale is the largest campus in the UTI footprint.
"We can't thank the Penske team enough for the support. This truck will be a shining light in the Diesel program," said John Dodson, vice president of business alliance and NASCAR for UTI.
"Now future technicians can connect with your brand and see the quality of the product that they can hopefully maintain and service as a UTI grad and future Penske technician," Dodson said.
Driving the Next Generation of Technicians
From its humble beginnings in 1965 with just 11 students, UTI has grown to become a leader in automotive and diesel education, operating 13 campuses across the U.S. and graduating more than 200,000 students.
Despite the increased number of graduates, the transportation industry has been faced with a growing need for qualified diesel technicians and a shortage of applicants to fill them. The gap is only expected to widen.
"By 2026, we are looking at more than 1.2 million job openings in automotive, diesel and collision repair," Dodson said, citing U.S. Bureau of Labor Statistics estimates. "There will be plenty of jobs, so we will need 120,000 technicians every year to fill those jobs, and we are falling short of that."
Penske has joined with UTI in an effort to help develop the next generation of technicians.
That assistance has taken many shapes. Penske representatives have attended career events, given classroom presentations, provided input into the diesel curriculum and joined advisory boards.
Last year, UTI's Bloomfield, New Jersey, campus opened a Penske-branded diesel lab, which introduced Penske as a potential future employer to students in the diesel technician program.
The campuses also provide a wealth of diesel technician talent.
"We have a long-standing partnership with UTI where we are engaged in actively hiring students as well as bringing real-world truck maintenance updates to the school," said Ron Schwartz, vice president of staffing for Penske Truck Leasing.
The Avondale campus is located in close proximity to Penske's Phoenix District. Since 2010, the company has hired about 300 students from the campus.
"Our relationship is not there just to hire from the schools," Schwartz said. "We are also creating that partnership to make sure the school is focused on meaningful curriculum and that they have the necessary tools to effectively train the future technician workforce."
The Gift that Keeps on Giving
UTI officials say Penske's donation of the sleeper will not only be of benefit to the current class of diesel technician students but for future students as well.
"This is a gem. There is more than just the diesel part of that truck. It has this big double sleeper. It has all of the things that move cargo across the road," Dodson said. "This truck encompasses everything we want to teach. It's current. It's up to date, so it keeps us up with industry standards."
Penske's willingness to provide such a quality unit to the students shows the company's desire to invest in the next generation of diesel technicians.
"The Penske organization is always looking for the very top-shelf talent that UTI can provide. By donating this truck, Penske continues to set the bar for other companies to follow," Dodson said. "We are very proud of our association with Penske, and our students are equally as proud. They recognize the industry support and the fantastic opportunities that Penske continues to provide."
Ready to start your career with Penske? Visit Penske's technician page to explore open positions. Penske offers competitive wages and a wide range of benefits,and we are an Equal Opportunity Employer.
Related Reading:
By Bernie Mixon