Improve Fleet Maintenance With Contract Maintenance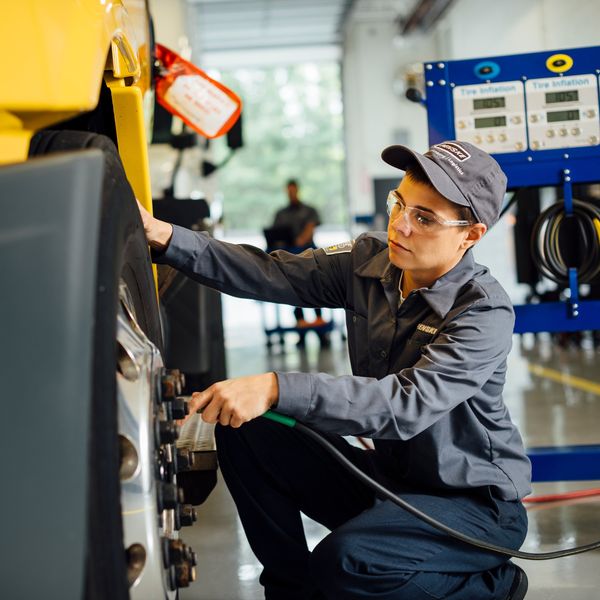 Regular maintenance is critical to equipment's safety, reliability, and efficiency, helping fleets and drivers prevent mechanical failures, avoid roadside violations and maintain uptime. However, maintaining equipment can be complex, requiring significant investments in tooling, training and labor. Penske can ease the maintenance burden on trucking companies through its contract maintenance plans, allowing carriers to focus on their customers and business.

Penske's maintenance partnerships start by bringing carriers' trucks up to Penske's high quality standards with a regular maintenance schedule. Program benefits include:
Discounted Rates: Penske offers tire retreading, DPF filter cleaning and rental trucks at preferred rates as part of its contract maintenance program.
Roadside Support: While preventive maintenance helps curb roadside failures, breakdowns happen. The key is getting equipment back up and running quickly. There are more than 12,000 service providers who deliver 24/7 roadside assistance.
Fleet Services: Regulatory compliance requires careful documentation and can be a time-consuming process, but Penske's Fleet Services and Operating Tax groups offer vehicle licensing, permits and tax reporting services, taking the complexity out of compliance.
Fueling Services: There are more than 360 Penske fueling locations, and when customers fuel at Penske locations, they have the benefit of customer service representatives who conduct vehicle and safety inspections and top off the oil, windshield washer fluid and antifreeze during fueling.
Visibility: Customers have access to real-time fleet data with Fleet Insight™ to help them make proactive decisions and keep their vehicles on the road.
Data Analytics: Penske analyzes vast amounts of data from across its network, including remote diagnostics, to understand when specific components may fail on each vehicle type. Detailed information allows shops to be proactive and schedule a repair before there's a problem.
Dynamic PM: Penske's Dynamic PM services analyze specifications and trends unique to each fleet, delivering the right preventive maintenance at the right time. Technicians completing a Dynamic PM use speech recognition technology to guide and record specific inspection steps, which ensures techs can focus on accuracy, safety and quality.
Extended Hours: Some locations offer extended hours and weekend availability so technicians can perform maintenance to help boost fleets' uptime.
To learn more about how Penske's Contract Maintenance can benefit you, contact 855-345-7268.
June 2023