Brake Selection and Care Is Critical for Safety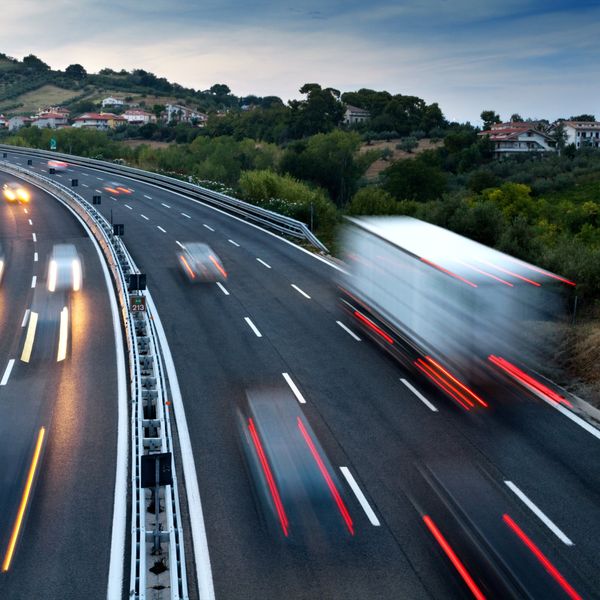 The brake system on a commercial motor vehicle (CMV) must work all of the time under all conditions, and both air disc brakes and S-cam drum brakes can get the job done. However, many manufacturers have made air disc brakes standard and the adoption rate for air disc brakes is increasing.
---
"The biggest difference between air disc brakes and S-cam drum brakes is disc brakes have a shorter stopping distance and you eliminate several components, so there are less maintenance items on air disc brakes," said Chris Hough, vice president of maintenance at Penske Truck Leasing.
For example, air disc brakes do not need a slack adjuster, but S-cam brakes do. Kerri Wirachowsky, director of the roadside inspection program for the Commercial Vehicle Safety Alliance (CVSA), said brakes out of adjustment is the number one violation drivers receive.
"Generally, when a vehicle is put out of service for brakes being out of adjustment, it is because the automatic slack adjuster did not adjust correctly. It could be because it was not maintained or because it failed," Hough said.
Additionally, air disc brakes don't experience brake fade, or result in stopping power, after repeated use. "At higher speeds, disc brakes have a better response at higher temperatures. Disc brakes don't fade as they heat up. To some extent, they get better. With drum brakes, as they heat up the drum gets bigger so the brakes don't have as much pressure," said Will Schaefer, director of safety programs for the CVSA.
Initially, the adoption of air disc brakes was slower because they were more expensive and roadside service didn't always have parts, Wirachowsky said. "As more and more get introduced into the market, the more price comes down and the more familiar technicians get with them and can do roadside repair. I think over the course of time, we're going to see more go that way," Wirachowsky said.
Penske Truck Leasing made air disc brakes standard on tractors within its rental fleet in 2017, and Hough expects to see increased adoption on trailers as well. "Over time, as technology continues to improve and air disc brakes become more economical, which they are, we'll probably see the industry transition to air disc brakes on trailers," Hough said.
Brake Maintenance
When maintained and installed correctly, both brake types meet required safety standards, but Schaefer stressed that maintenance is critical for all systems. "Sometimes disc brakes are erroneously characterized as being maintenance free and they are not," he said. "You have to have a suitably sufficient and regular check of the vehicles, taking care of the vehicles overall on a regular basis. Brake systems, whether you have disc brakes or drum brakes, do require attention."
Hough said brakes must be checked at every preventive maintenance inspection and drivers should regularly check brakes during pre- and post-trip inspections. Plus, brakes need to be lubricated or greased at set intervals and slack adjusters on S-cam drum brakes have to be tested.
"During a PM inspection, we measure the applied brake stroke. With the foot pedal applied, we measure the total distance the slack adjuster is traveling so we know it is working correctly," Hough said. "They're pretty dependable, but from time to time, one will fail."
Hoses and tubing have been an important focus area for CVSA inspectors for several years because brake hose chafing is another common violation. "You could have belly hoses on the trailer that are rubbing or the gladhand hoses are too long and they rub on the catwalk," Wirachowsky said. "That is what we look for, and drivers should be looking for that during their inspection."
If a hose rubs up against something until it punctures the liner of the hose, it will leak air. "If it is leaking air, the brakes won't work correctly," Hough said, adding that some hoses are difficult for drivers to inspect during pre- and post-trip inspections. "That is why it is so important during a PM inspection to check for any type of chafing."
Overall Safety
According to the Federal Motor Carrier Safety Administration's (FMCSA's) latest Large Truck and Bus Crash Facts report, the brake system was the third most cited vehicle-related factor in fatal commercial motor vehicle and passenger vehicle crashes, highlighting the critical safety role brakes play in transportation.
Additionally, brake-related violations accounted for eight out of the top 20 vehicle violations in 2020, according to FMCSA's Motor Carrier Management Information System. Plus, brake-related violations make up the largest percentage of all out-of-service violations cited during roadside inspections, CVSA reported.
October 2021