When military personnel conclude their service, they come away with skills and qualities that employers in the civilian world seek out to build their own successful team.
At Penske, Military Recruiting Manager, Sean Wilkins constantly evaluates and updates Penske's military recruiting programs.
"We are continually expanding our military hiring efforts and developing our current and prospective partnerships. Of course, hiring and recruiting is a big part of what we do – what's more important is what happens after Penske hires military veterans. We need to connect with and support them; provide mentorship as for some it could be their first job out of the military. We want to make every person we hire, as successful as possible – and that's not a one size fits all," said Wilkins.
Wilkins continued to explain hiring is two-fold. They not only get, but they give – impacting those working around them.
"The military made me very adaptable," said Kate Hughes – National Guard. "I was trained as an all-wheel mechanic. Penske has given me the opportunity to rise-up and show what I am capable of. Penske has also supported my personal development and career growth. It's a place that made me feel like I belong and where I can make a difference."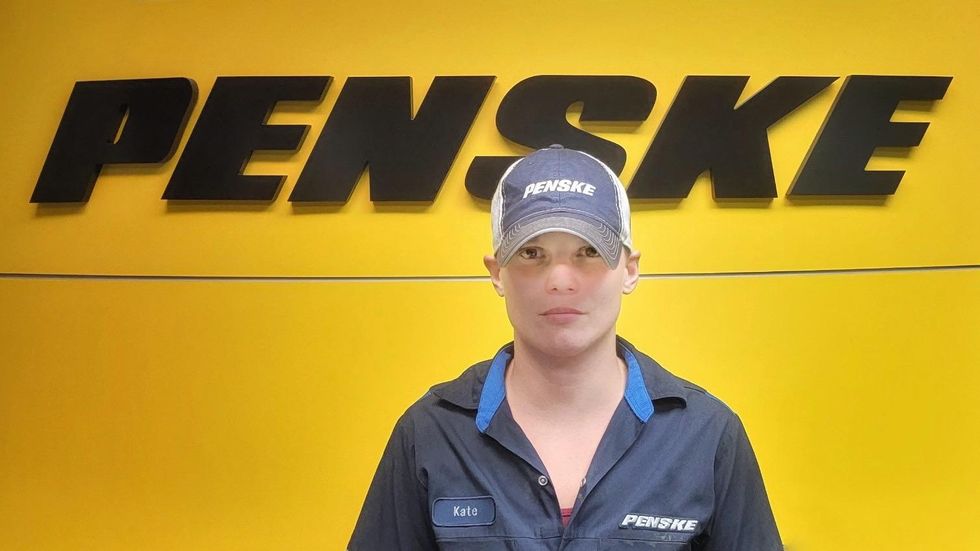 Kate Hughes, Tech III - Chattanooga
Hughes has been with Penske since 2021 and is a Tech III in Chattanooga, Tennessee.
Branch Service Manager, Collin McNeilly has done his fair share of military hiring in the Washington, D.C. area and started his Penske career as a Tech III in 2005.
"When I first came on-board with Penske in 2005 the military technicians working there took me under their wings and trained me up. It was always a two-way street to collaborative success. When a new hire has military experience, you just know. They come in knowing the task to 'make things work' and had an innate ability to troubleshoot. Two standout military technicians helped make me who I am today – providing structure and influencing fair discussion and reliable work ethic. I'm forever grateful for the connections I made that helped me grow personally and professionally."
Penske's commitment to future military hiring outreach remains strong, and it's continually evolving into a more robust program by developing solid partnerships with technical schools, industry groups, military outreach non-profits, and military bases.
Wilkins concluded: "We make sure we hire military personnel into appropriate positions, and then we follow-up in providing individual, continued, support to make them successful. They already have what it takes. Teamwork. Leadership. Self-discipline. Situational awareness. All these characteristics are ones they've built during their military career and they're the same qualities that we look for at Penske."
Both Penske Truck Leasing and Penske Logistics offer a wide range of career opportunities, including truck fleet maintenance technicians, truck drivers, fleet maintenance supervisors, operations management roles, as well as logistics and supply chain operations roles and many others. The Penske organization is recognized as a 2022 Military-Friendly Employer. This honor recognizes companies that have remained steadfast in creating employment opportunities for veterans. Visit https://penske.jobs/veterans/ for more information on career opportunities.
By "Move Ahead" Staff