Penske-Sponsored State of Sustainable Fleets Report Finds Fleets Are Accelerating Use of Clean Vehicles
In the third annual State of Sustainable Fleets Market Brief, released today and available at no cost, transportation fleets continued to report a resounding trend — their use of clean fuels and advanced vehicle technologies is rapidly progressing. Report title sponsors are Daimler Truck North America, Penske Transportation Solutions, and Shell Oil Company. Cummins, Inc. is a supply chain sponsor of the report.
---
Report author and leading clean technology consulting firm, Gladstein, Neandross & Associates (GNA), unveiled the findings at their Advanced Clean Transportation (ACT) Expo, a four-day conference which drew a record number of attendees.

"The State of Sustainable Fleets report provides valuable insight into the industry's views on transportation sustainability and can provide practical, technology neutral guidance for fleets searching for solutions. We are very proud to once again sponsor this leading publication," stated Drew Cullen, senior vice president of fuels and facility services, Penske Transportation Solutions.
Report authors surveyed nearly 250 U.S.-based fleets that have used clean fuels and vehicles including propane vehicles, compressed natural gas (CNG) vehicles, battery-electric vehicles, or fuel cell electric vehicles. Among that group, nearly 85% report that their use of clean vehicle technologies will grow over the next five years.
A key to increased adoption of near- and zero-emission transportation across the public and private sectors, including accompanying fueling and charging infrastructure, is record-setting government funding and legislative support at both the state and federal levels, the 2022 report confirms.
While California continues to lead in vehicle and infrastructure funding, as well as progressive zero-emission regulations, five other states are following suit with regulations of their own: Oregon, Washington, New Jersey, New York, and Massachusetts have all adopted rules based on California's that requires automakers to sell increasing numbers of zero-emission trucks.
In terms of funding, the report finds that available public incentives for the clean fuel and vehicle market will increase to approximately $20 billion annually across more than 230 programs over the next few years, a nearly seven-fold increase from the average $3 billion previously. Much of the funding growth is due to the $1.2 trillion Infrastructure Investment and Jobs Act (IIJA).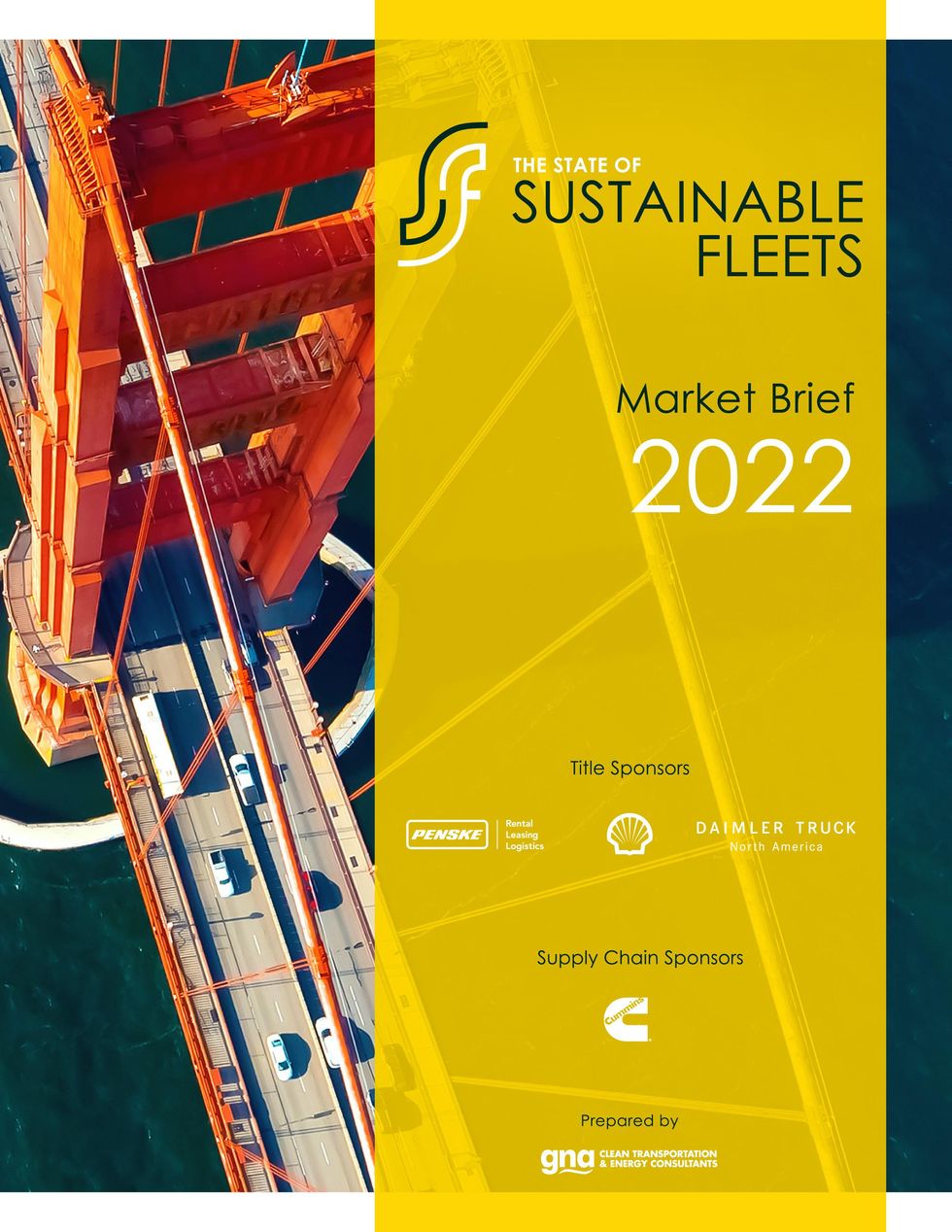 Other findings in this year's State of Sustainable Fleets:
Diesel fuel prices are the highest levels since 2014, further improving economics for alternatives. National average prices at the pump were 19% higher in 2021 than in 2020.
Battery-electric vehicle demand is ramping up despite supply chain delays and high costs. The report finds that scheduled medium- and heavy-duty battery-electric vehicle deployments will go from dozens to hundreds across this year and next. Fleets are placing record-setting orders and certain sectors are already seeing early scale including nearly 1,800 battery-electric school buses ordered or deployed by more than 350 school fleets in the U.S. to date. A few hundred more grant-funded Class 8 battery-electric vehicle orders from major manufacturers were placed in 2021 and early 2022. Orders still far out-pace vehicle deliveries and battery prices remain stubbornly high. An emerging trend in this space — vehicle manufacturers are becoming more involved in the battery-electric ecosystem by providing value-add services to fleets learning to operate in this new and unfamiliar space.
Compressed natural gas fuel is priced just right, vehicle sales grow. Among surveyed fleets, 73% report that fuel cost savings is a primary advantage for deploying natural gas units. Transit buses, straight trucks (including refuse), and Class 8 tractors are the dominant sectors driving CNG vehicle sales, leading growth in registrations of natural gas vehicles by 3% from 2020 to 2021. Most fleets that have piloted or purchased CNG trucks in the past two years additionally reported equal or better performance on emissions (96% of fleets), noise (87%), fuel supply (67%), and total cost of ownership (57%) as compared to diesel.
Renewable diesel growth is very strong. Production capacity for renewable diesel increased from 600 million to 800 million gallons per year between late 2020 and mid-2021. By 2025, U.S. production capacity is forecasted to exceed 5 billion gallons annually, a six-fold increase from 2021. The annual survey found that renewable diesel adoption is highest among government fleets, with nearly half of state, county, or municipal fleets reporting renewable diesel usage.
Propane fuel is easy and affordable with its sub-$2 per gallon cost. Among the more mature clean vehicle platforms highlighted in the report, four states — California, Florida, Michigan, and Texas — accounted for roughly 30% of national demand for propane vehicle fuel. Propane-powered trucks are most often used by state, county, and municipal fleets (43% of such fleet types in the survey). Its usage is also common among smaller fleets with 35% of propane users in the survey representing fleets with 101-500 vehicles.
Hydrogen vehicles are on the horizon with larger grant-funded demonstrations beginning now. The report found that total hydrogen medium- and heavy-duty truck purchases in the U.S. were just under 150 orders in 2021. There were no public hydrogen stations opened outside of California in 2021, but an additional 57 stations, primarily for light-duty hydrogen vehicles, are planned for California, Ohio, New York, Rhode Island, Connecticut, and Massachusetts. Dozens of grant-funded fuel cell electric tractors are now on order by leading fleets.
"We are seeing an incredible acceleration in the investment being made from all sides of the alternative fuel vehicle market, being driven by increasing commitments to environmental sustainability and carbon reduction, and to find more cost-effective transportation options given today's record-breaking gasoline and diesel fuel prices," said Erik Neandross, CEO of GNA, the firm authoring the report.
The State of Sustainable Fleets is the leading source of information on sustainable technology decisions being made by America's on-road fleets. The annual analysis gathers real-world data directly from early-adopter fleets across the U.S. to provide deep sector-specific insights into the adoption of battery-electric, natural gas, propane, and hydrogen fuel cell electric vehicles, against a baseline of diesel and gasoline vehicles.
By "Move Ahead" Staff